Today is not an atypical day. We're sailing at 3 knots, the sky is overcast with rain predicted.
Hilary, after eating breakfast, told me that the beauty that surrounds us in the Malaspina Strait was so difficult to express that it hurt in her chest. Jennifer, down below planning our passage through the upcoming rapids, heard this and arrived with three stuffed animals that Hilary is enchanted with, distracting her from her pain.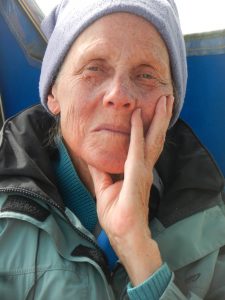 After a few moments, Hilary stood up, commenting that she needed to go down backwards, and then climbed down into the main cabin. Jennifer  looked up and asked if Hilary needed to use the toilet. Hilary said, with some urgency, yes.
This year, unlike last year, Hilary has not learned where the toilet is, though, she still knows how to use it.
Jennifer took this opportunity to have Hilary change her underpants. Hilary has had continence issues since her forties, but now isn't aware that her underpants might need changing.
When I am living alone with Hilary, I take care of this. When we are three, Jennifer takes this responsibility, and I generally help Hilary find the head during the middle of the night: I sleep next to the door to the forward cabin.
Alzheimer's in many ways is no different than any other permanent and debilitating injury or disease… No different than becoming a quadriplegic, for example. But it is different in that it is not visible, and this can make a difference.
Today is a quiet gentle day, but yesterday started with boisterous sailing to windward, heeled 25 degrees in bright sunshine and white caps.
Hilary has no fear of sailing, but found that she did like to sit to windward so she sees everything and not at the bottom of the cockpit. As the wind died and we sailed quietly, Hilary realized that she would like to go ashore and walk.
She asked whether we'd like to join  us, "couldn't we just walk over there?'' The explanation puzzled her, and over time she might suggest occasionally that we stop and go there, or use the small boat (our dinghy) and go there.
There are multiple answers from us and multiple questions from Hilary because in the time it takes to ask the question, Hilary no longer realizes that she asked it before or that we've answered. And so, the question is repeated every thirty seconds or so for up to two hours.
We'll sometimes lose track of the disease and answer with an explanation that lasts more than a few seconds that Hilary can not only not understand, but no longer understands what the answer is in reference to.
Hilary is a diplomat's daughter. Raised at times in Latin America, the UK and in Swiss boarding schools. She is comfortable in Spanish, grew up with servants, and unexpectedly starting speaking German one day a few months ago when my friend Sieglinde came to visit us in Seattle.
As an adolescent, Hilary would climb out an upper story window into a tree in the evenings; disappear into Mexico and China as an adult, for weeks at a time, only to reappear once back in the US.
I first met Hilary at a dinner party she hosted in her amazing top floor apartment, open with terrific colors, a huge 20′ by 40′ deck and a clear view of the Atlanta  sky line.
Jennifer suggested I speak with Hilary about an issue she was having with the evening's main course. Hilary walked me into the kitchen and showed me a bottle of Sangre del Toro and small card attached by an elastic to the neck of the bottle. Hilary asked if the recipe on the card made sense. It did.
She smiled, and returned to her guests. I, with amusement, made dinner.
Stories abound of tradesmen not billing Hilary for services. She would be the center of dinner parties we would throw. Never commandeering, but just a radiant glow at the table around which the event would slowly begin to orbit.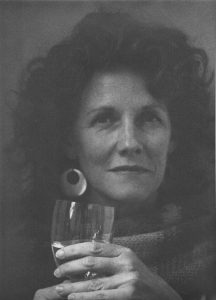 And then, the glow started to dim, and, for a small while, Hilary was aware,  became quieter and slightly frightened as she began to understand.
Don, her long time live-apart partner, with whom Hilary often confuses me, who had been asking Hilary to move back with him, called one day and said, send her. Send her now.
Life can be complicated. Don was a full ahead alcoholic: the reason Hilary had left him years ago. We tend to see people as a single dimension, but like all of us, Don was three dimensional. A funny, smart, lovely man when sober, who became an ass once descended into a bottle.
Don took Hilary for six years as Hilary's disease progressed, and finally one day 15 months ago achieved his own closure, which, near the end, he raced to with ever increasing alcohol consumption.
By then Hilary was living with us. There is always Monday morning quarterbacking…
Sometimes, as it happened yesterday, Hilary  interleaved the buoyant suggestions that we go for a walk together in the very beautiful and visible  hills with struggles to remove her life vest (PFD). It is a ship's rule that we all wear them when underway. ''Stupid,''  in Hilary's words.
As today progressed, Hilary enjoyed the scenery and asked about the man who had been here a few minutes ago. Discussed her experience last time she was here and where she went.
I sometimes look for a model for the disease. It is in many ways just like schizophrenia: there was no man Hilary was speaking to a few minutes ago, nor has she ever been here before.
Sometimes, it is like being very drunk. Thinking becomes very confused,  some logic doesn't work, and memory is all wonky.
But more often, at this stage and with Hilary, it is like being a three-year old. Every three-year old can tell fantastic stories of when they were the parent or when they did some very amazing thing. Hilary, who was never a fan of stuffed animals, now likes to keep one with her at all times and is comforted when she sleeps with the three we have on board.
The stuffed animals are generally new each time she sees them, but like things that are very important to her, or emotionally charged, Hilary will remember.
In the latter half of our day, Hilary decided she wanted to go home. She would walk.
The notion of being on a boat has no meaning. Wanting to go home, we're told is common among Alzheimer's suffers and like with Hilary usually happens in the evening.
Hilary grabbed hold of this notion and wouldn't be distracted.
After a while, Jennifer remember the DVD player we've brought with us. Hilary loved the idea of watching a video of traveling up the inside passage. The irony is not lost.
The day with Hilary was a day of gentle downwind sailing, with a stop in Lund for fuel, a wonderful Tuna Melt sandwich shared amongst the three of us and three sticky buns.
We met a couple and their dog we had met in Gibson's, who were traveling by car and trailer. When we last met, Hilary told the corpulent man that he needed to start walking.
Alzheimer's has become such a pervasive disease that most people recognize Hilary's symptoms immediately.
---
Air in the engine fuel lines continues to be a bugaboo, but one we routinely overcome.
Through a gap in a rocky shore on the edge of a bay we motored into a protected pool with loons, surf scoters and both a lone seal and bald eagle hunting.
We dropped anchor and I worked on the plexiglas drop boards I had begun working on before we left Seattle.
Hilary lost interest in her video, but by now had entered familiar behavior terrain. Though protesting she needs to go home, it is becoming dark, and she really doesn't want go. Hilary has aways had and retains her social skills. The evening is approaching and any polite person knows it's time to leave.
We protest, invite Hilary to dinner and suggest she stay for the night. She is genuinely surprised, touched and pleased to be invited, and relieved.
Dinner is informal tonight: nachos made with freshly fried tortilla chips black beans that we've made from dried beans, avocado, onions and shredded cabbage dressed in store-bought caesar salad dressing.
Jennifer and I are informal, eating with fingers, and forks as the moment dictates. Hilary eats with a fork.
Darkness descends and after some reading, we all turn in for the night.