We're back in the Pacific Northwest. Well, at the moment, 'we' refers to Hilary and me.
Hilary, Jennifer and I spent from October 5th through January 7th in Phoenix working on a house Jennifer owns. It was a time to get fit as Jennifer and I worked 6 to 7 days a week from sun up until we needed to stop.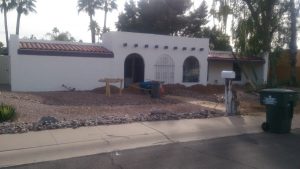 I got in shape by moving approximately 25 tons of gravel with a wheelbarrow and a shovel. It feels good to carry muscle again. The trick is how to keep it; I don't belong to a gym anymore.
Our life has returned to our non-sailing life. Jennifer is in Atlanta preparing one house and an apartment for rent. Then she plans to load up a truck with furniture and belongings for the Port Townsend house and bring it via Scottsdale to pick up Hilary's artwork, and possibly via Evergreen, Colorado to pick up a Mirror Dinghy.
A day or two after she arrives, I leave to go to New York to visit with my Dad and see friends. Living with Hilary has made this our normal life: traveling singly rather than traveling together as we once did.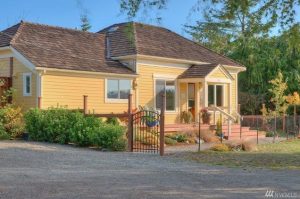 The big news is that we now live (as much as we live anywhere) in Port Townsend in a 1912 house called the Nellie Donagan House. Yeah, a house with a name and a plaque!
The house will have its own website later this week.
How are Hilary, Jennifer and Caro Babbo?
Caro Babbo is doing well. She is still docked on Lake Union, where we intend to keep her. It is nice to have a place in Seattle.
However, it is a 2½  hour drive from Port Townsend, so no afternoon sails unless we stay over, which we will. Jennifer and I both missing winter sailing, but it is not to be, this year.
Jennifer is doing well, working hard after a two week vacation in Berlin visiting her best friend, Bettina.
Hilary is progressing along her journey. Oddly, she recognizes me as someone she knows, but does not recognize Jennifer, though ''Jennifer'' is someone she asks about often.
The biggest news is two-fold: First, Caro Babbo comes out of the water on March 3rd here in Port Townsend.
Second, the Nellie Donegan house needs no work. The house was beautifully maintained and renovated, so there is nothing that needs to be done. The highest item on my list is writing. I need to fill in all the unwritten parts of last year's trip… We wrote almost nothing about Glacier Bay National Park. We're pleased to say we were living the visit rather than recording it.
Prior to moving to Caro Babbo to PT, the diesel needs to be running well . After speaking with our marina mate, Nate, I have the name of a company that can service the injectors. Last fall, we determined that the two aft injectors need to be serviced. Servicing should cure the lack-of-power issue.
I'll start working the web to find the air-in-the-fuel-lines problem this week. We met two other boats with 3GM30s (our engine) this summer that were having the same problem.
When Caro Babbo is pulled, I'll copper coat the bottom, which is the major task. I'll most likely drop the rig, Whether I do or not, I will be changing the rig from a baby stay to two forestays so that our Portland Pudgy dinghy can be carried on deck.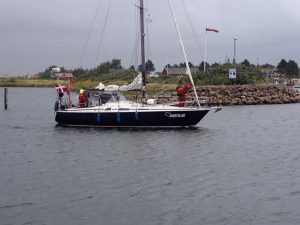 The rest will be routine maintenance… I'll buff out the hull, etc. I have thought of wrapping the hull. I've seen a Maxi 95 in dark blue that I thought was gorgeous.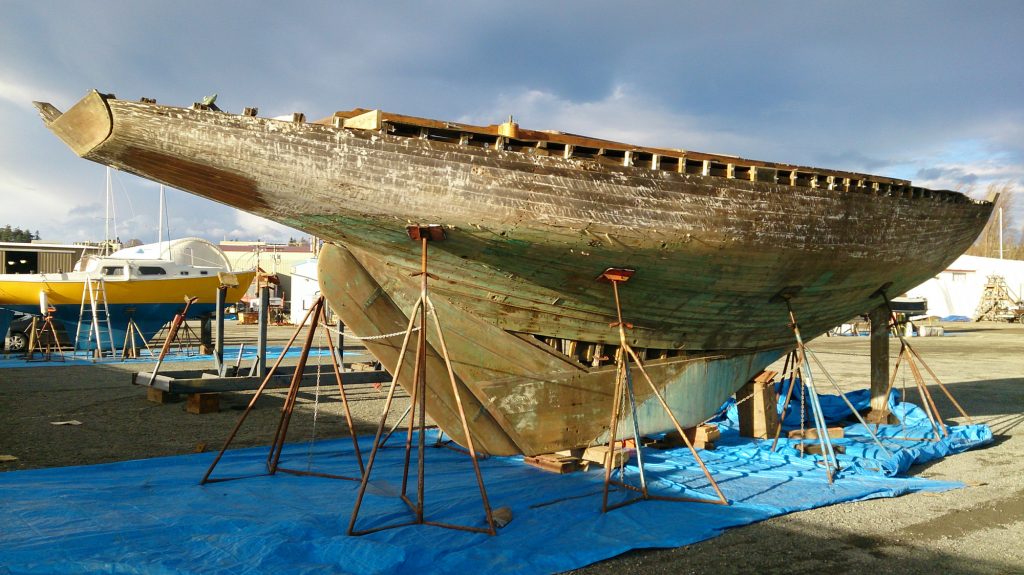 About Boathaven: It is not a small marina and yard that we would associate with Port Townsend. It is a big commercial yard with smaller ferries and commercial fishing boats on the hard, as well as all sorts of sailboats. Jennifer spent a few hours one day walking around the yard.
Port Townsend has a great vibe and Boathaven is no different. I do feel like we're ''not in Kansas anymore.'' The docks are open, we can just wander about and meet people, which is what Hilary and I have been doing. (The world generally thinks we're a couple.)
Before we shove off again in April, there is still stuff to be bought: an inverter, a water maker and a new suit of sails.
[As I write this, I realize that installing the water maker while Caro Babbo is out of the water would be a lot easier.]
Between the water maker and the sails, we eat this year's capital budget.
I can't wait to be back on board and away.