3-JUL-2017, Craig, AK – We've met people who spend each fourth of July in a different Alaska town. Each town has its own character and make up.
Craig, where we are today, Monday, the morning of the third of July is home to many young familes with children. We met them yesterday at a children's fishing competition at the marina. This town of 1300 or so showed up with any dozens of children under ten years old fishing a remarkable number of Halibut from beneath the docks… by remarkable I mean dozens and dozens in a one hour period.
Tonight, starting at 11pm, when it is dark enough, there'll be a fireworks display. Fireworks traditionally happen on the third in Alaska so that everyone can sleep in the next morning. Around the solstice, I know it was dark at 1.30 am, but getting light by 2.30 am. There is not a lot of darkness this time of year.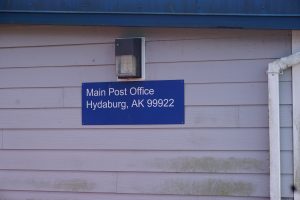 We motored up Thursday from Hydaburg, where we had spent an afternoon and got to know the locals, learning bit by bit about how the tragedy of the loss of a young man effects an entire small community.
Coming past Craig on our way to see the totem park in Klowack, we spoke with the harbor master about the difficulty in getting a slip. The fishing fleet was still in the harbor but would be leaving the next morning. Michele reserved slip 52 for us.
In Klowack, we docked at an empty space on the main float, slip 20; I wandered the dock while Hilary and Jennifer got ready. While looking for the harbormaster, I met Stretch who is the image of an old timer, thin like a string bean with hands like gnarled oak.
Stretch told me that a 60-foot tug would be arriving about 8pm to use the space we were in, but we could tie up along side his tug, Cape Orago – also about 60 ft. – for the night, if we'd like. (I've come to realize that new faces and people to speak with are valued. Tying up is a kind thing to offer and provides new people to meet.) We spoke for a while before Jennifer and Hilary came onto the dock. Stretch lives in Ketchikan and comes up to Klowack to work the tug when called. He moves large ships on and off the logging dock.
He laughed and told me that in nine years, he's never used the tow cable.
By now Jennifer and Hilary had joined us. Stretch included Jennifer in the conversation, which broadened to some personal info: he keeps his boat at the end of the dock when you enter Thomas Basin in Ketchikan. The small adrenaline rush hit me when I realized I know all the boats docked there. They are old, wooden, and Jennifer and I recently spent some stolen moments while Hilary slept looking at those exact vessels.
''My boat is the Stimson'' Stretch said. ''Build in 1915!'' I replied. ''1914,'' he corrected.
He told us about the designer, and that the Stimson would go onto the hard later in the year; an historian from the wooden boat school in Port Townsend would come up to measure her so they would have a record.
Stretch told us that he is a regular the Potlatch bar at Thomas Basin, where everyone knows him and where we can find him. The Potlatch is well known, Jennifer and I walk past it often, and is known for its clientele and for being rough and tumble. He and his wife Pam are often there.
I like the contrast in names of a man named Stretch (it's the name on his business card) with a wife named Pam.
The totem park at Klowack is emotionally moving. Set high on a hill behind the school, it is commanding. The totems are each re-carvings of memorial poles commissioned by the CCC during the Roosevelt administration. They have an authenticity that the ornate newly carved, perfect totems lack.
Stretch had given us one set of walking directions to the park, which differed from those in Jennifer's guide. As we walked out of the marina, a woman named Elise commented to us what a lovely day it was. As far as we, from the lower 48 could tell, its only qualifications for lovely day was temperature out of the forties and not raining at the moment.
Elise was a lovely woman to speak with, with her young daughter, living a varied life with her husband who I'd met on the dock. She teaches Yoga and has the body form we think of for a Yoga instructor. Her husband was ''in education,'' and they'd take the summer to fish. Elise, and her husband, had an open guilelessness that felt honest and at ease. Something that seemed to be what we all strive for.
There were constrains, Elise told us how lucky she was to work for a studio that would allow her teach when she wanted to. Jennifer and I live in a world largely of the self employed: the fishermen we meet on these trips, the contractors we meet in PT, and the largely retired (and no longer employed) surround us in our daily life.
Elise's inner peace jarred against the image of an employer. It really made me think a Yoga studio is where I should spend more time.
Elise's directions to the totems took us along the side of the elementary school directly to the park.
I bled the fuel line and we motored back to Craig. The man on the VHF gave us directions to slip 52, an outside slip, where Jennifer docked us with her now routine precision.
In Craig, we broke with tradition, going out to eat twice, and rented a truck to visit the cave at El Capitan.
Time for blogging is running out this morning, so that story will be for another time.
Geology nerds are very nice people.
Hilary's personality generally stays pleasant, but the acerbic, unhappy Hilary peaks out more often, but only when it is just Jennifer and me. The psychosis continues to ratchet up: being in public places is more difficult now.
We'll be away from voice and internet for the next ten days or so.
–john