5-JAN-2018, Lake Union, Seattle, Wa – Standing fully clothed, soaking wet in the cockpit of CaroBabbo at the dock in Lake Union, Jennifer said, "Would you like to take a picture of me?"
Jennifer always has more sense than I have, but I merely said, "no."
Instead, a few hours later I took this picture: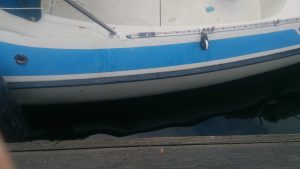 We've been in Seattle a little more than a week; we leave the day after tomorrow.
Our time here has been devoted to work: John fixing the boat, Jennifer taking care of financials. Jennifer has her personal financials caught all the way up to September, and her business financials through the end of second quarter. At the rate I'm going, I will have everything done on the boat in a little more than a year from now, if I work seven days a week.
However, there is very little that must be done before we sail away April 1.
We're returning to our "living in Seattle on the boat" life: We hosted breakfast this past Sunday with new friends, Mary from Spirit, and Carly and Jason from Derek's boat, Endeavor, along with breakfast veterans.
We cracked open a bottle of Black Bush Irish Whiskey to toast the successful raising of Harrison's mast.
Starting from a raw extrusion, Harrison fabricated everything except spreaders himself, including the mast step, and built a gorgeous, gorgeous mast. This past Saturday using a forklift we raised the mast and cut the stays and shrouds to length. Tuesday, we took the boat sailing.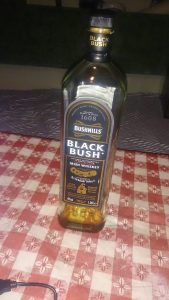 But once having opened the bottle, it was half gone by the end of Saturday, three quarters gone by Sunday and on Monday Jennifer and I finished it.
The days have been days of work. I never finish as much as I intend to, but the work is satisfying, when it's not frustrating. We've watched our AIS transmitting CaroBabbo's location across the months, but when we came back to the boat we found that it won't connect to the router, nor "talk" through a USB.
We're sending our VHF radio to Lowrance under warranty, and have watched our video projector travel from the repair site in Los Angeles to the house in Port Townsend.
Norm at MER and I have renewed our friendship by discussing kill cables and stretched head bolts for our Yanmar 3GM30F. Jennifer and I visited Fisheries, met with friends old and new while we priced a Raymarine EV1 auto helm for $1600 and polycarbonate wineglasses for ten dollars each.
It does feel like home. But then, whenever we return to someplace where people are as happy to see us as we are to see them it feels like home.
Our dehumidifier works well keeping the interior dry and mildew free. We use an electric heater for heat at the dock.
We have thirty-amp service to the boat with a thirty-amp circuit breaker on our side of the electric pole and another thirty-amp circuit breaker for the boat next to us on the other side of the pole. Yet, we sometimes lose power at only about twenty amps – Our circuit breaker hasn't tripped.
Hunting through the transformer boxes and disconnects in a large electrical closet at the marina office, I found a tripped thirty-amp circuit breaker that services both thirty-amp circuit breakers on the pole: the total draw from our two boats cannot be more than thirty amps.
We've learned not to use all our appliances at one time.
Our kerosene (paraffin) oven works, as does our alcohol stove, so we can cook and bake. Next week I'll order replacement burners for the kerosene stovetop: I'll order two Taylor replacement burners, and a compatible Swiss burner to see how that works.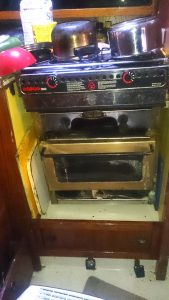 With a new Carbon Monoxide (CO) detector, we've learned that our alcohol stove needs a lot of ventilation, not so for the kerosene stove.
My day normally starts about 5:30 in the morning when I get up to write my daily journal, catch up on email and financial data entry. I also spend a good amount of time shuffling my to do list.
I make coffee for Jennifer at 7 AM, and perhaps a cup of tea for me. Jennifer reads the headlines, catches up on her email and has a second cup of coffee.
It was raining this morning, so rather than work on things outdoors, I worked on inside projects and the many desk projects. Being Friday, Jennifer decided to do the laundry.
I heard her walk along the dock, returning from putting the laundry in the machine. The boat rocked to port as she stepped aboard, and then the sound was wrong. There should be a hollow bump as she steps onto the port cockpit locker, and then a footfall as she steps into the cockpit.
The sound instead was the squeak of rubber against fiberglass, and then the sound of someone falling, although I did not notice, without the large multiple thumps and bumps as the body hits the cockpit floor. Before I noticed the missing thumps and bumps I was in the cockpit asking if everything is okay. When there was no Jennifer on the dock or in the cockpit I called, "where are you?"
In that moment Jennifer called my name twice, which I didn't hear, and as I finished: "where are you?", she said, ''help.''
She needn't have answered, because by then I knew where she was: in the water between the dock and the boat.
When I looked over the side, she looked very wet, somewhat feline and, while a bit worried, not panicked. I reached over and she grabbed my wrist as I grabbed hers, and then tried to pull herself up.
The topsides, even on this middle 70s cruising boat, are too tall to climb up. There are numerous stories, perhaps apocryphal, perhaps true, of people going swimming off the side of their boat and not being able to climb back in, dying of exposure or whatever else the stories tell.
I folded down the swim ladder at the stern, Jennifer climbed up the ladder, then down into the cockpit and said with great aplomb, "Would you like to take a picture of me?" I demurred, and we both at the same time recommended a hot shower for Jennifer. Thinking quicker than I do, Jennifer said, with the force of a strong decision, "I want to get all of these clothes into the load [of laundry] that's running now!"
We trundled off together, not touching each other, to the laundry and showers where I opened the top of the washing machine to stop the cycle, and Jennifer pulled herself out of her clothes.
As a man will do, I admonished Jennifer to be more careful. She countered that she always was, (as I write this Jennifer wants me to change was to ''is'', and now raises her voice and says "am!") and pointed out other women in the marina who fallen into the water.
That is an interesting point: we only know women who have fallen into the water. My first thought is that men have fallen into the water and just don't talk about it. I then thought a bit about gender differences, maybe men are stronger and can recover, but I think the real gender difference is footwear. Jennifer was wearing a very nice pair of Clark's leather slip-ons, while I was wearing a pair of XtraTufs.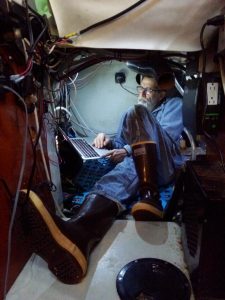 We talked for a while about where the ladders are to climb out of the water; how climbing into a dinghy, then from the dinghy to the dock would also be a workable strategy; and, how trying to climb up the top sides of the boat would not work, but if one were panicked,one could waste all the available energy and not get out of the water.
In our marina, one could just as easily swim to the shore and walk out of the water.
In telling the story to our marina mates, Jennifer repeated in each telling how she couldn't understand how she didn't hit the boat on the way into the water. After a while we learned that Jennifer didn't hit the boat on the way into the water. A sharp edged en-dash bruise on her backside tells all who are privileged to view it that Jennifer hit the dock on the way into the water.
The rest of the day was the same as any other day: Marina mates stopped by to say hello. Harrison came by before his haircut to discuss AIS systems. My nephew Vin came by later in the evening to drop off some papers. Jennifer conversed from under the covers in forepeak.
We've heard from past marina mate, Christian Redd, who writes to Jennifer that he had fallen off the dock while stepping onto the boat with both hands full of groceries.