Stripping the partition between the head and the main cabin turned out to be about an eight-hour process when completed. Four times my estimate, but it is done.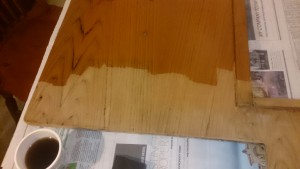 The first coat of 50% Epiphanes and 50% paint thinner when on about 5pm today.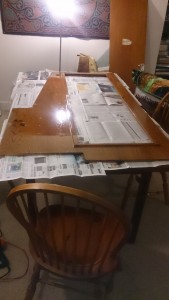 Stripping involved a replacement heat gun — the first $10 Harbor Freight heat gun lasted more than one project, which is beyond its duty cycle in my mind, and I hope this one will last that long — lots of scraping, and finally 80 grit sand paper to get whatever the heat gun didn't remove.
The partition is made of 10mm 7-ply plus two veneers marine plywood without voids.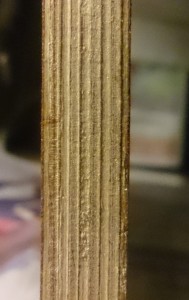 The so-called marine plywood we're seeing at lumber stores here in the Seattle area has voids. When did plywood that is called marine get voids… and a sheet of exterior I recently bought delaminated when it got wet. The exterior was bought from a lumber yard, not Home Depot.
This is worrisome. I know the real McCoy is out there, it will just be a matter of shopping better, and paying what it is really worth.