The number of discrete projects finding completion continues.
In the last two days all of the electronics installation was completed, the color coat was painted on the dinghy, the dinghy centerboard well repaired and the stove installed.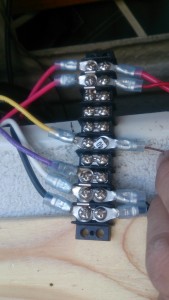 For the electronics installation I used a terminal block rather than splices into wires, cleaned out some old wiring – will this never end? and cleaned up some existing wiring.
The VHF radio will sound a fog horn if I connect it to the hailer tucked away in the starboard cockpit cubby. Sounds intriguing. According to the manual, between fog horn soundings, the radio changes to ''listen'' mode. In the fog horn section of the manual there is no explanation, but in the description of another option using the hailer, the manual says the radio uses the hailer as a microphone listening for a response. I don't know what it does if it hears one.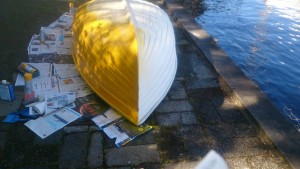 The color coat on the dinghy looks very good, but I got some overspray on the concrete blocks at the marina. It looks like the aerosol rolled under the dinghy and colored the blocks. I will make good and have it repaired.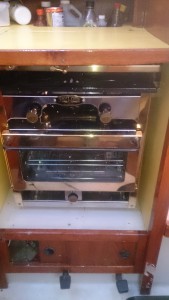 Stove installation went well but required modifying the ¼" plywood liner in the space. The new stove, with gimbals, is exactly the width of the space without the liner. I cut a rectangle out of the liner.
The burners take a long time to light – they must be preheated with alcohol. This will take a little time to get used to, but they boil water very quickly, in our ad hoc test.
This, I believe, ends the large tasks. The compass will get calibrated this week. I still want to replace the steaming light — Jennifer will hoist me top the mast.
Though not critical path, I am looking forward to connecting the shower drain to diaphragm pump, which will pump the water overboard rather than allowing it to drain into the bilge. The pump is in place but running the hoses is a chore.
Tomorrow, we'll be at 12 days. If you're near by, join us for breakfast at the boat. Arrive about nine am.
The AIS has a flashing green light indicating an antenna issue. The code is VSWR, which is Voltage Standing Wave Ratio. This seems to be an indication of impedence. The connector for the mast-top antenna looked a bit corroded. I'm hoping that's it.