We are making progress on our preparations for the Alaska trip. Executing these preparations with Hilary in tow has been at times more successful for me than at others.
First, we have recently enrolled her in Full Life Adult Day Care. We call it her Friendship Group, and we take her Monday, Wednesday and Friday mornings from about 8:30 until about 1PM. The cost per day is $65. Our bill for March is going to be around a thousand dollars.
There is no doubt in my mind that it's worth it, both for me and for her. For me the benefits are obvious: I get time to focus on tasks. For Hilary, while I can't know what goes on in her mind (she doesn't either), and she can't remember what happened in the group, she is always relaxed when I pick her up, often engrossed in a book in the director's office and somewhat reluctant to leave. She sleeps better at night, in general, and sleeps a bit more during the days. This is going to happen anyway as the disease progresses, but I believe that the extra mental, physical and social activity tires her afflicted brain. Any successes in these areas are welcome.
"Friendship Group? What friendship group? I was? You're kidding." No, I'm not kidding, Hilary, I think you had a really good time. "Oh, well, OK."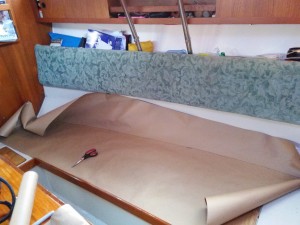 While she's at Full Life I've been measuring and cutting fabric for cushions. I bought high density foam and cut it out from patterns I traced with butcher paper in the V-berth, salon and aft cabin (still in progress). On the informed advice of a friend in our marina who has upholstered cars professionally, I glued a very thin layer of foam to the back of our chosen fabric and then traced and cut the fabric, including panels for the zippers, and clipped the right sides together with binder clips in preparation for sewing. Such a good tip.
Our upholsterer friend, Harrison, keeps a Juki industrial sewing machine in the marina shop and has not only showed me how to use it but assembled several of the cushions before I stepped in (or maybe was guilted in). I love that machine. Such a doughty battler! Any infelicities in the finished cushions are my fault alone, but it's amazing what one can live with if it's self inflicted.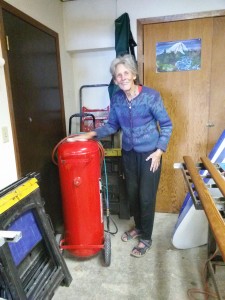 Time flies in the shop and Hilary has joined me a few times. As tiring as it is for her to think, or walk, or read or socialize, it's even worse when she has nothing to do. To help her with this I've asked her to sweep the shop, dust the shop, sweep the dock in front of the shop and to sit in a strategically visible chair with a DVD player and watch a movie or read a book. John has taken her for walks and she has napped on the floor in the shop. I have screwed up from distraction and while alone with my patterns. Measure once, cut once, and then measure twice and cut again, this time right side down. And then she can help clean up the shop again at the end of the day. She remembers nothing of any of it.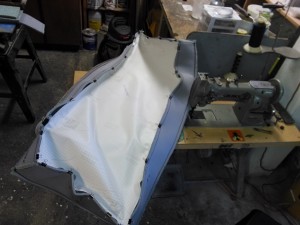 Today she's been home with me and I've been doing desk work. I've researched and ordered a vacuum sealer, a hand-held vacuum, an EPIRB (our insurance requires three crew and an Emergency Position-Indicating Radio Beacon, so check and check!), and more fabric for the two remaining cushions. My efficiency hasn't been at its peak recently and I've made some errors of judgement with the big foam and the fabric. I didn't have enough and now I may have too much.  I can store it in the 5 x 13 Storage room I've just rented for the rest of our stuff.
Hilary sleeps on the couch and snorts gently. She says to the room, "Yes, what a lovely little pussycat! Thank you very much! I do, too!" And then lapses back to sleep.