Any that can go wrong, will go wrong — Murphy's law
If two things can go wrong, the thing that will cost the most will go wrong — First Corollary to Murphy's (paraphrase)
The first corollary to Murphy's law is certainly the general case. So much so that I found myself looking for the most expensive engine failure rather than the mundane.
When I did software support in my twenties, we required the customer perform all routine maintenance before we'd look at a reported problem. If I had done that on Caro Babbo, the engine problem would never have been a problem.
The engine now runs fine with no additional lift pump. We're good to go.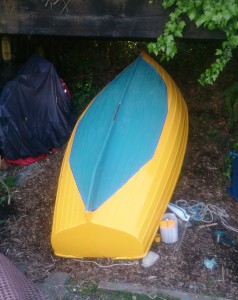 I finished painting the bottom of dinghy. The paint is bleeding a bit under the masking tape, so the lines will not be as clean as I had hoped.
I bought the Plexiglas for the drop boards from Clear Cut Plastics in Fremont. The owner, Charlie, is wonderful and very giving of his time.
I planned to cut the rabbets* with a router. Charlie said he cuts those with repeated passes of a table saw and then uses a router to clean everything up. He has a router table.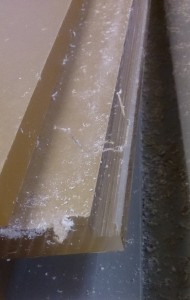 I made the rabbet with the table saw in the shop. I'll affix a fence to the face of the router to get a uniform cut along the face of each board.
Saturday was the Fisheries Supply Swap meet. Free to everyone. People selling just set up in one of the parking lots and sell. Sellers arrive around 11pm the night before. Buyers can start as early as midnight. We try to arrive a little after seven am.
This year I arrived with a box of stuff to give away. We're giving up the apartment we keep in Seattle and things that I know will never be used needed a home. Most of it went to friends. I now know enough people in the community that I can reliably meet friends at the swap meet.
My friend Derek found a battery monitor for $3. Dorin picked up a hydronic heater for free.
The most exciting news is that our marina gave Jennifer, Hilary and me a going away party with more than twenty people attending. It was wonderful. Thank you everyone.
No new projects are being started and we have started cleaning up the inside of the boat while finishing current projects – yes, even this process includes redoing electrical connections and removing unused wiring.
We used our oven to make muffins for our Sunday breakfast.
Hilary and I made three trips to Goodwill on Dearborn this afternoon. Jennifer has made a few to the Mercer Island thrift shop and the computer recycler on the Island. Almost everything we are donating came from one of those three places. I think of the purchase price of each item as a rental fee.
Harrison will join us for the weekend.
We leave Friday morning. We'll stop in Edmonds to have our compass swung, then onto Port Ludlow for the night, then possibly Port Townsend, arriving in Friday Harbor on Monday or Tuesday so we can go on a whale-watching boat skippered by our good friend Dennis Canty.
Four days left until we leave.
* Rabbet – A longitudinal channel, groove, or recess cut out of the edge or face of a plank of wood or other material; especially, one intended to fit another member to form a joint.
 Bill Haimes called me this afternoon. He's in the hospital with cellulitis, which is apparently an unpleasant skin infection, generally staph. Bill injured his ankle a couple of years ago and has been plagued with problems ever since. So, we'll skip Edmonds and sail with an uncalibrated compass again this year. We have a Plastimo 50 on board the year to do dead reckoning, so we're okay.