[Some posts, like this one, will appear on line a day or so after they are dated. It generally means that I wasn't able to finish copy editing that day.]
Hilary sleeps open mouthed on the main cabin, settee; Jennifer is nestled in the V-Berth, with occasional loud intakes of breath; Harrison is in the aft cabin with Bo – his dog.
Everyone sleeps late this morning, it's 7:30, because Rachel will be driving up to Port Townsend, where we are anchored off the town dock, to join us for breakfast and take Harrison and Bo back to Seattle.
We're normally on our way by 7 or as late as eight. If the current is against us at that time we'll leave earlier. 3:30 is rare but we've done it. It allows us to sail as much as makes sense, and arrive in daylight. Rachel makes a wonderful excuse for everyone to sleep late and recover from the short nights and long hours preceding our departure.
The sail up was a nice one.
The weather was cool with clear skies and light winds. ''Fair winds and calm seas'' was not too much off the mark. The winds was in the 5 knots or less range and water nicely flat. Generally, the wind was somewhat behind us: we flew our spinnaker for a couple of hours until the wind shifted from the southeast to the northeast at the end of the day, when we needed to sail close to the wind to get to the Port Townsend ''cut,'' a man-made canal.
Caro Babbo does not have roller reefing, also called roller furling. The newer implementations (in the last 20 years) can be used to reef a sail, the originals could merely furl it.
With roller reefing the foresail (the sail on the extreme front of the boat) rolls up, like a window shade. This has a number of implications: It is very easy to set the sail, just unroll it. It is very easy to put the sail away (douse it), just roll it up. And, when there is to too much wind for the full sail, it is very easy to reduce the size of the sail by rolling the sail up part way (reefing it). There is a lot of good to be said about roller furling sails: much, much larger boats can be handled by one of two people – 60-plus foot boats designed for a well-heeled retired couple to sail are not uncommon in the markeplace – no one needs to go on deck during unpleasant weather, or any other weather.
In practice this means the foresail is a jack of all trades and a master of none. While is certainly saves space below by not having multiple sails to stow, sails aren't easily changed to match the weather. The sails are also cut to roll up nicely – there have been technology improvements to allow more curvature in roller furling sails. In the case of very light airs, we carry a 170% Genoa of very light material, which allows us to sail ''close'' to the wind.
It's not uncommon to hear owners of new boats tell you their boat won't move in less than 10 knots (about 12 mph). Part of the reason is the roller furling sail, which is heavy enough to be used in all weather and not overly large.
In the last ten years or so, ''code 0 (zero)'' sails have become the rage – There is a fashion for everything and these sails are in fashion. It is an asymmetrical spinnaker, set like a jib and generally rolled up, hoisted and unfurled. They increase sail area tremendously, are very light material and very colorful, but they can't sail close to the wind.
With our ''170,'' we can and do.
We picked up our EPIRB Thursday from West Marine, they had the best price and the item in stock. There was a screw up in the order, so the category 2 EPIRB we ordered on line did not arrive. We ended up buying a category 1 EPIRB, which self deploys when it is one meter underwater, or we can deploy it by hand.
We seem to have all our technology working. My phone acts as a router and hotspot. Our AIS transponder connects to it and the devices and software that want to speak to get to the transponder wirelessly.
We still do not have the transmit signal strength that we should, but we'll sort that out when our friend Erwin arrives in June.
Something is going on with BoatBeacon and Navionics. We're unsure if it is the tablet, support for the tablet, or an interaction between the two pieces of software. BoatBeacon does very good AIS processing and display. Navionics has become the standard tablet-based navigation software. Each of these companies really does it right.
Navionics is a very large corporation that does maps and charts. The BoatBeacon people are four guys working out of their ''sheds'' in Wales.
The problem is that the tablet is not getting a GPS fix. Generally, with clear skies, the tablet gets a fix in ten to thirty seconds. When I have these products running it can be fifteen minutes and the connection is tenuous. We'll sort this out when we sail to Friday Harbor on Monday.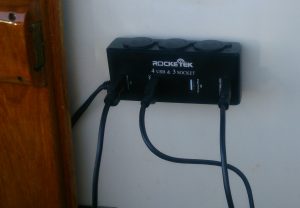 The biggest technology improvement was finding a USB and 12V cigarette-style power adapter and splitter from Rocketek. One of the major issues we've had on previous sails is the lack of places to connect all of the electronic devices we have. This device is in two parts, one is kept in the cabin, where we connect some devices and the rest is attached by a appliance-type extension cord where we can attach the rest. We've mounted it using 3M Dual Lock – Velcro on steroids.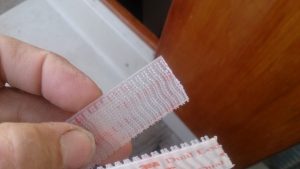 There are still numerous minor projects to be done, mostly installing trim from refinishing the head.
It's good to be back in Port Townsend, though we never went ashore.
Harrison and Bo sailed up with us from Seattle and went ashore with Bo when we arrived. Harrison was the first to actually use the outboard, which worked flawlessly. The dinghy, however, is leaking as bad as it ever did. I don't know whether the stress of the engine opened something, whether the fix I made did hold, or with weight in the dinghy there are leaks that were not exposed when it was just me in the boat.
This will require further work. I intended to bring a tube of six10 epoxy, which is great for all epoxy work including working with glass cloth (the glass in fiberglass).
Rachel will be here in a couple of hours and the household is starting to stir.