Monday we stayed in Friday Harbor, visited with the owner of a Maxi 100 (our boat converted to a motorsailer), went whale watching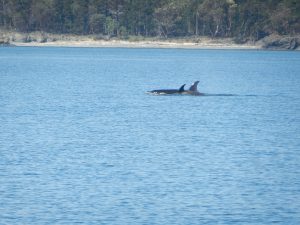 and joined our  friend Dennis for dinner aboard his Pacemaker 26 sailboat.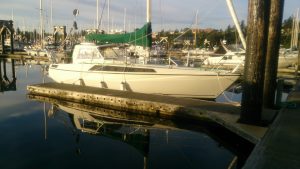 Amongst Dennis, Jennifer and I, two bottles of wine, a round of mescal and a beer or two disappeared (Hilary drinks cranberry juice in a wine glass). At times like those, the conversation often wanders, and did, to living life.
Dennis, who is the same age I am, picked up a 100-ton license across the winter and took a job skippering a whale-watching boat. He looks happier and healthier than he has in the three years I know him.
For $4k, he picked up a very nice 26-foot sailboat with 6 feet of head room and lives a life men our age dream about.
There is the story of the career-track American vacationing in a Mexican fishing town who meets some fishermen sitting in the sun. He engages them and suggests that rather than sitting in the sun, they work harder. They could then buy a bigger boat, catch more fish and have more money. Then with perseverance they could by multiple boats, and grow the organization.
''What then?''ask the men. ''Well then, after years of hard work, you can retire, relax and sit in the sun.''
Putting children through college notwithstanding, it is a story that at this point in many people's life reverberates. And there's Dennis living out the dream.
When the conversation turned to me, I wondered whether I will/should continue to get out of bed at 5.30 each morning? How much work I should put into things: I want to stop working.
Dennis asked, what does not working look like? I couldn't answer.
Yesterday I slept in until 6.45 am. Jennifer and Hilary woke not long afterwards and the day began.
By 11 am, we had motored out of the harbor to an island park a mile away, picked up a mooring buoy and rowed ashore.
As some point during the very perfect day, I reflected on this and decided I did want to continue to get up a 5.30 so I can write – fiction, non-fiction and correspondence. It is quiet then and I am more productive. But I found that wasn't the real reason. I can always shut my self into a cabin and write. The reason I found is that I don't want to miss any of the day. I want to spend time with Jennifer and Hilary AND I want to write. The answer became clear, it is not getting up to work, it is getting up to do what I want to do, and that intent changes everything.
---
The engine continues to perplex. After a few days of starting very easily, it was quite difficult to start yesterday and today. I expect it is the same filter I recently replaced. It is confusing because I washed the tank when I had it out… but I did not remove all the varnish.
I have only one filter left, so I won't replace it until I can buy some more. I'll also look into having the fuel polished.
The dinghy continues to leak. We carried the dinghy up the beach where I repaired the known leak: a place where the 3M 4000 did not adhere. I scraped out the 4000, roughed surface and reapplied.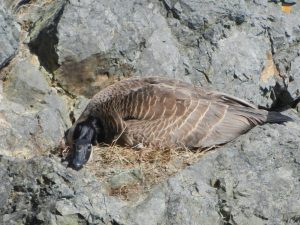 By then Jennifer and Hilary had started their walk. I caught up to them sitting on a cliff looking out over turquoise water. A solitary Canada goose paddled across the water for more than a quarter mile. Why was it paddling, where was its mate? We sat, ate pickles, oranges, and grapefruits. And then started the walk around the island on game trails. A fawn and doe kept their distance but did not disappear out of sight.
The game trails skirted (and very short skirts these were) the cliffs.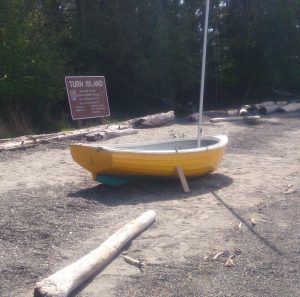 When we returned to the dinghy, the patch was dry and held when we put the dinghy into the water. Maddeningly, there is another leak, which I could not find. By morning, the dinghy had filled again.
Dinner made great use of the stove. I baked a couple of loaves of bread, one single rise and one double rise. I cooked some black beans from dry beans; this is something we could not do with an alcohol stove.
I made a turkey salad from Hellman's Mayo, some celery, onions and a turkey breast we had roasted a few days earlier. I used some of the onions for the beans to make a black bean salad of the beans, chopped onions, olive oil, white vinegar and cumin. Jennifer and I had turkey salad sandwiches. Hilary has more class and ate her dinner with a knife and fork.
We'll use the rest of the beans with chili powder to serve with eggs and corn tortillas for breakfast.
We can't take apples into Canada, so we made an apple pie using some phyllo dough that we had left in the freezer when we left the apartment.
It was nice dinner.
This morning we had the same difficulty starting the engine, but all is running well as we motor to Sidney (no wind today) to check into Canada.