29-JUN-2016 – Let me start off by telling you the end of a post that I have not finished writing, and while I was writing, I did not know the end.
My friend, Jo Ann Froelich, died this past Sunday morning June 26th at 1 am at home.
I visited Jo Ann in Salt Lake City last Tuesday and Wednesday. I decided to visit Jo Ann rather than attend my nephew Nick's wedding and obfuscated the reason. I'll get to that in a moment.
While we sail, life continues… and, I'm afraid, lives end.
This is the second sailing trip during which a woman I loved very much died. Both died from cancer. The irony of having Hilary who physical thrives, while my two friends who were mentally sound, were betrayed by their bodies and died, Hilary, the woman who mothered Jennifer and was such a star in everyone's life, lives in body only.
My longer post tells who Jo Ann was, her life and who she was in my life.
Her family is putting together a celebration of her life in which they want to highlight Jo Ann's business accomplishments: She is the only person I know of to head all three major vendors in any vertical market.
There is a reason to highlight this aspect of Jo Ann's life in her hometown. This irked Jo Ann, and while she would tell me this in her everything is positive voice, it hurt: when she returned to life in Utah after retiring, Jo Ann found the institutional sexism of the culture did not believe she was, in the business sense, who she said she was.
Jo Ann found that the people she dealt with socially at her church and other places thought she was lying when she said she had been President, CEO or COO at these corporations. They believed she was the ''assistant to.''
Her daughters seem to want to rightfully stick their collective thumb in the eyes of those who did not give credence to their mother.
Hilary, here, continues on, hale and hearty, though a bit more frail than she had been. This trip provides a milestone against which to measure her decline. But, to those who meet her for the first time she is still a delightful woman, remembered and hailed by all who have met her.
Jennifer Hilary and I are in Red Bluff Bay on Baranoff Island. This is apparently the first place we've stayed on the ''trail.'' There are four boats with us here. It is the fifth time in our ten weeks of travel we've shared an anchorage with anyone, and the first time we have ever had more than one boat.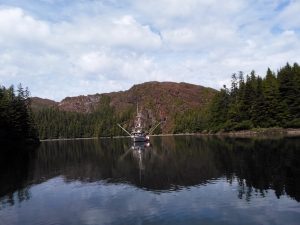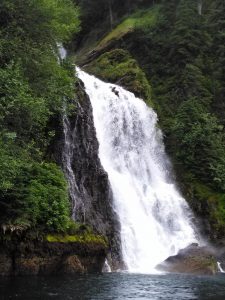 The sail from Kake was marvelous. Double-reefed main and a 135% Genoa, we averaged about 5.5 knots. We played all the bets correctly (we've been getting better at this):            We bet that the wind would pick up as we moved in the strait – it did – so we left the double reef in.https://youtu.be/KcCB6CriCds
We bet the wind would shift to the south – it did – so we did not tack, even though the wind started out directly from our destination. By the time we arrived, it had shifted 45 degrees to the so we stayed on a port tack the entire way.
Last night we stayed in a small inlet about 8 miles south of Kake.
Anchored in the inlet were two skiffs (skiff is the preferred name, in these parts, for any small boat). Each skiff had an outboard engine on it. On the shore was a stack of fifty or so crab pots, though they could have been shrimp pots.
The feeling that honesty and integrity is part of the Alaskan self-definition is never far away.
On our way to the inlet we watched five humpback whales grazing.
We worked our way to the inlet through Rocky Passage.
Rocky Passage, like many of the tiny places and tight narrows that Jennifer takes us to, can be very dangerous. With proper planning they are all pussy cats, rather than lions. Quiet, tranquil and enjoyable. Arriving at wrong time can spell the end of your boat and you.
We arrived late leaving a strait on our way to Vancouver. The current had started to build. It was a very different experience. Enjoyable in its own way, because we were not in any real danger, but a small look at what the passages are like at the wrong times.
Three of the four boats we share our anchorage with seem to be charter boats. There are all over seventy feet, and I see people early in the morning cleaning when I am up and everyone else is asleep. When we get to Sitka, I should Google these boats.
Today we'll head to Baranof Hot Springs. These two stops are the first we've been at that are on the main drag to Glacier Bay and are highly written about. Jennifer has sad she'll trade smaller more difficult to reach against top-rated and crowded – Crowded being four other boats 😉
It's funny, how on the east coast, I can't ever remember anchoring alone. Because there were so many people, we rarely spoke to anyone and never knew the names of the people we did speak with.
Hilary is sleeping, Jennifer is rising. Coffee is ready.
I'll bleed the fuel line, start the engine. Jennifer and I will get us to the next stop. Hopefully sometime between when everyone else leaves for the next stop and the next bunch of boats (like us) arrives.
[Note to self: Take not only beautiful pictures, but pictures of the fuel dock at places like Kake and the people who work there, like Benson at Kake and Christoff at Shearwater.]
<Actually posted on 17-JUL-2016>