Yesterday, we sailed from Roche Harbor to MacKay Harbor. The day before from Sidney Spit to Roche Harbor. Today from MacKay Harbor to Port Townsend. There is no denying that we're home: blue Skies, light winds.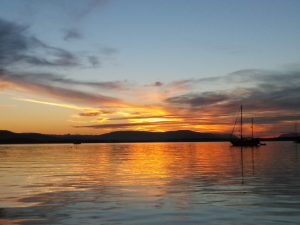 Sidney Spit is in Canada, Roche Harbor is in the US. Sidney Spit is a story and post of its own, with new friends and Hilary as the star of the dock, as usual.
Past journeys through this area have always been good sailing. On this journey, the wind has generally been elsewhere, though we did get a few spinnaker runs in. We doused the spinnaker too early when we thought the wind had died, only to have the wind return after everything was put away.
Jennifer tries her hardest to take us to new places along new routes each time we traverse the same territory. We stayed at Sidney Spit rather than at the Sidney Marina and traveled an outside route around the South of San Juan Island rather across the north on our way to Roche Harbor. We docked at Roche Harbor rather than anchoring out, as we normally do.
 Some remarkable music we recorded at the weekly Sidney Thursday Street Fair (2013)
As we readied to cast off from the dock at Sidney Spit, a couple, Pete and Sherry, asked our advice about crossing the cove. It is shallow, at the dock we were sitting in 6'8″ of water and need 4'9″ to float.
They recently bought their boat and did not have all the charts they'd like. The alternator on their boat had also given up so they would be on a dock when they got to Roche Harbor.
We've been staying on docks on this homeward leg of the trip because getting Hilary in and out of the dinghy has been getting harder and she is becoming less able to entertain herself on board, so walking in the town or the trails is becoming more important.
To get from Sidney Spit to Roche Harbor is a sail across Haro Strait. It can be boisterous, but generally, when we cross it it has been very nice. This time it was completely flat with no option to sail.
As we neared the east side, a 40-something sail boat, which had been inching closer, suddenly turned onto a collision course. Jennifer made an appropriate and non-blasphemous exclamation, followed by ''Orcas! There are whales!'' The boat had turned to follow the whales.
As they came near, the man at the helm yelled, ''Look how many!'' It was a dozen or more of a resident pod.
We followed for a while, and after the pod dispersed, we continued south. To get to Roche Harbor requires crossing Open Bay and then following another pass up the east side of the island. A few boats were floating aimlessly in the bay watching, we discovered, more Orcas.
We started to cross the bay. The only Orcas we saw were several hundred yards ahead and also a few hundred yards to the left. As we crossed we saw a female a hundred yards or so to our right, so we stopped to watch all the Orcas feed.
The female to our right decided that she needed to be to our left and started at a canter to charge towards us.
In Glacier Bay, we learned that the correct etiquette is to just stay put and let the animal decide what to do. So we did.
I have a little more confidence with Orcas than with Humpbacks because they are not only much smaller, but they echo locate, so they know we're here. Humpbacks are known for coming up under boats.
Roche Harbor is a resort that poses as a town. It's a good resort, well run, with lots of staff. It is also the most we've ever paid anywhere for dock space. On the other hand full access to the resort is included, so it is difficult to complain.
Pete and Sherry showed up and we invited them for dinner. They brought salmon and a barberque, along with a bottle of wine. Dinner lasted until after midnight, the latest we've stayed up since the beginning of the trip.
They're Americans who have lived in Uganda for 25 years. They're in North America to drop their daughter at university in Victoria and to sail their newly purchase sailboat.
Sherry works in third world countries on health issues, which have taken her everywhere imaginable. Pete, who is a great conversationalist, somehow never disclosed what he did/does, with a single hint about solar dropped casually (or perhaps accidentally) in the history of their time in Uganda.
They have the only sailboat on Lake Victoria, BTW.
In the morning, Pete and I discussed this and that and turned to education. Pete has a couple of Bachelors, a couple of Masters, a JD and a PhD. I don't know what any of them are in.
We'll have something to speak about when we next meet.
Roche Harbor to MacKay Harbor allowed us to get a spinnaker run in, and today's motoring to Port Townsend was just that, though we did hit all of the 3 knot currents, which took us south across Juan de Fuca Strait, then east and again south into Port Townsend.
It never ceases to be unnerving to be pointed 30 degrees away from the actual direction one is moving.
Lisa, the owner of Lee's Landing, says she's pretty sure our slip will be available on the fifteenth, and we're already being asked whether we will be hosting breakfast on Sunday… Yep. We only have one burner working on the stove, but that is a post of its own.
Come to breakfast this Sunday, if you're near by – or fly in. If you haven't joined us before, contact me here.
Like Long Island Sound, where I grew up, Puget Sound is a great place, ruined only by the number of people who live here.
I think of the Yogi Bera quote, ''No one goes there anymore, it's too crowded.''