On Thursday, the 15th of September we motored from Port Ludlow to our slip on Seattle's Lake Union. It was five months to the day since we left for our Alaska adventure.
We motored because our engine is once again giving us trouble and we worried about restarting it. We think it may be an injector issue from water in the tank – more about that in a separate post. I changed the primary filter while at the dock in Port Ludlow.
Our entry into Lake Union was a bit inauspicious. The train bridge before the locks was open and after saying hi to lock workers we recognized, we cleared the locks. We signaled for the Ballard Bridge to open, which it immediately did – a very unusual event, which would prove to be prophetic a few minutes later.
Our engine will not rev above 2500 rpm in forward. This is new, starting on the sail from Port Townsend to Port Ludlow. It limits our speed to about 5 knots or so. The engine will rev to red line in neutral and reverse.
After the clearing the Ballard Bridge, we motored to the Fremont Bridge; we keep Caro Babbo just the other side of the bridge. We signaled the Fremont Bridge at 4:04, plenty of time since the bridge is closed from 5 until seven, or so we thought.
When the bridge did not open or return the signal (Long-Short to say opening, or five short blasts to say wait), we signaled again.
This time the bridge operator responded on VHF channel 13, bridge operations, asking whether we had a radio. This is interesting in that very few pleasure boaters monitor 13. We do, so that we know what is happening at the bridges and the locks. It is also very interesting to hear how the pros speak to one another.
She nicely filled in the blanks for us: the bridges do not open from 4pm until 6pm, not 5 until 7. After asking if she had any ideas where we could wait, we turned around and motored back towards the Ballard bridge.
This explains the Ballard Bridge opening so quickly. A faster boat, or us with a fully functioning engine, would have made it through the Fremont Bridge before four pm.
There is a public dock in the Fisherman's Terminal, but that is on the other side of the Ballard Bridge. Eventually, we pirated a spot for a couple of hours at Dunbar Marine. Our friend Dorin, via Facebook Messenger, told us that Ray Dunbar had retired and sold his company. We called the number on the dock, No Answer, and then tied up anyway.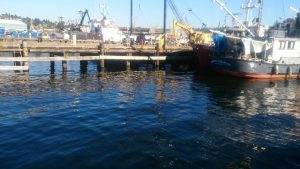 Ray Dunbar called after a few minutes, even though I had not left a message and was quite surprised to learn his number was still listed on the dock.
When the time came to leave, we bled the fuel line, started the engine and motored back to the bridge.
It is fall here and the new rowing teams, both UW and amateur are out in the nice weather rowing. The journey in the ship canal is both very pretty at this time and requires a little more awareness as we and the rowing shells pass and overtake each other.
An eight-person shell moves remarkably fast.
As we motored to the bridge, we heard one of the big ocean tugs ask for a ''lift'' at ''about 1800.'' We now had a fixed time to aim for. We wanted to make it through on that lift.
The engine would rev to 2500, but no higher, so we motored as best we could.
When the bridge went up we radioed to ask the operator if she would hold it open for us. She said she would and then it took us four minutes to get to the bridge. She held it open and waited for us. We stopped all of the traffic and all of the buses for those four minutes. It's a burden we do not like to bear.
We apologized as we passed under the bridge, telling the operator we had ''propulsion issues.'' She replied that we ''did fine.''
Morrison's, where we hoped to pump out, had closed at six, so we docked with a somewhat full holding tank, and were met by our marina friends who we have not seen since April.