Yesterday afternoon my Google Alert found a Portland Pudgy for sale in Eagle Harbor on Bainbridge Island, very near Seattle. It had been posted 33 minutes before. It was listed at $3400, is in new condition and came with a Bermuda sailing rig. I contacted the seller and bought it.
This is about the fifth Portland Pudgy we've seen. We've bid on three and lost each one.
Today, I sent the seller $1700 via PayPal so it's ours. I'll send the rest the day before it's picked up. We're in Phoenix, the dinghy must be moved by late November.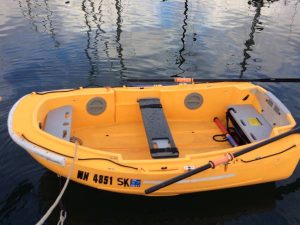 A Portland Pudgy is a 7½ foot dinghy that meets the SOLAS requirements as a life raft. At 7.5 feet, it will fit on Caro Babbo's deck and still allow us to open the sail/anchor locked.
As a life raft, it is sailable and rowable, meaning that rather than waiting for someone to find us, we can sail or row to shore. This is important for two reasons. The first is, as noted, we can sail or row to land. Stories abound of people on life rafts in sight of land, but floating for days waiting to be seen.
Steve Callahan, author of the book  Adrift: 76 Days Lost At Sea (1986), says that if he had been able to sail or row, he would have been ashore in three days.
The second is that the rate of survival is higher if the people in the raft feel they are in control of their destiny.
Other reasons to have the Portland Pudgy is that it is unsinkable, versus life rafts that are inflated, and it can also be our dinghy, which will save room over a dinghy and a lift raft, and we'll have day-to-day experience with it.
The ''Pudgy'' seems to need a long shaft outboard, so we'll need to figure something out. Our three horse only has about 40 hours on it, so I am loathe to get rid of it. I'll be looking to find a long shaft to replace the short shaft.
This tops off the capital expenses budget for 2016, almost. I had budgeted ten grand, and have now spend a little more than nine. We're done.
Once back in Seattle, I'll sell off our current dinghy. The choice is to restore it to a rowing-only dinghy and sell the rig separately, or repair the sailing dinghy features: Properly attaching the mast step and replacing the centerboard well. It is a dinghy that rows very well.
Any thoughts?
We do have one slight problem, how to move the dinghy from a long distance. Two friends, April* and Dennis, have each offered. April lives, more or less, in Port Townsend, where Jennifer, Hilary and I will be living this spring, and April goes to school in Seattle. She can drop the dinghy at the house in PT, or at the marina in Seattle, whichever is easier. Dennis lives and works in Friday Harbor, so there is a greater hardship. We'll call for Dennis' help if we need it. Thank you both.
---
*April appeared in an earlier blog post about unpacking the stove.