The journey from the Port Townsend house to Caro Babbo is two buses, then the ferry and a bus. Total cost in this direction: $5.75.
Door to door, it is about three and a half hours.
I was aboard last Wednesday on my way to Port Townsend from New York and nothing much had changed.
The purpose of being here this week is to get the boat ready to be moved to Boat Haven Marina in Port Townsend next week: Fixing the engine.
Besides the air leak, which requires bleeding the fuel line whenever we start the engine, we have the low power issue, which we believe is the injectors.
Regarding the air in the lines, he suggests adding an electric lift pump to fix the symptom, most likely, and perhaps show where the air is getting, by putting enough pressure to show it. He is saying we want 14 psi. I believe the pumps I have been looking at are 5. I need to look at this again.
He also suggested I speak with the people at MER.
The list of things to do is massive, but the only thing that actually needs to get done here in Seattle is the engine. But, I must also order all the parts I will need: Coppercoat for the bottom, Sheaves for the mast, and then things we'll do while she's out of the water but could be done in the water.
The other thing I want to do while I am in Seattle is to sell our dinghy. To do that, I will remove the centerboard well and return it to a standard dinghy. It sails terribly as configured. There is a massive lee helm, and a poor implementation.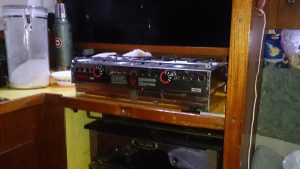 Today, Jennifer will send a deposit check to Jim Kitchen, the sailmaker, and I will speak with John Gardner at Taylors (I also make sure my column at GXPress is accepted by editor Peter Coleman.)
Last night Derek stopped by the boat.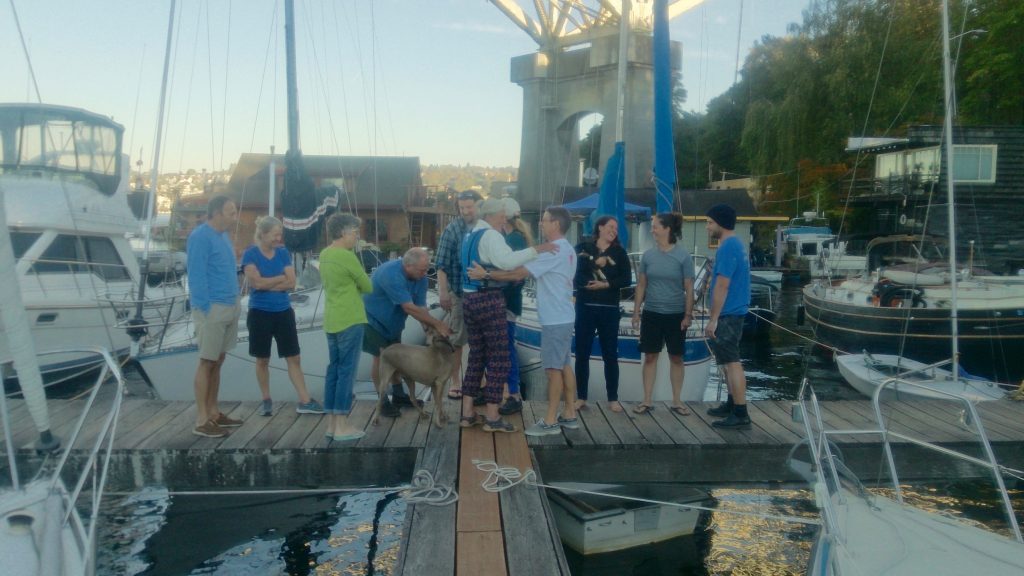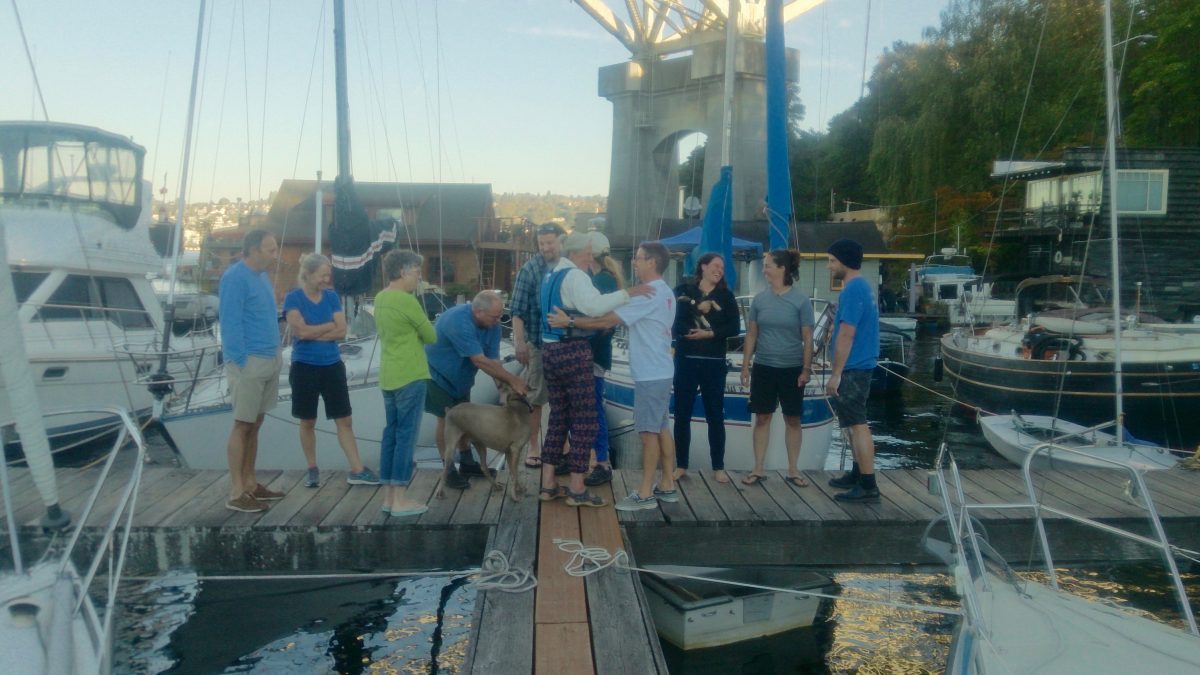 Apparently, we were here for the golden years are Lee's Landing. There were many people living aboard and we met for Breakfast aboard Caro Babbo each Sunday.
There is almost no one living here now. Derek says it has been a very quiet and very cold winter. Only Derek, Christian and his spouse, and Liz are here. Ken and Bonnie are in Leavenworth (Wa), Mike and Jeannie are living ashore, Dennis and Lisa are in Mexico and have moved the boat to Friday Harbor, Amy and Erin are living in a house on Olympia and Harrison has fallen in love and is mostly living ashore..
Now Derek maybe leaving for the summer as first mate on a 120 ft power yacht.
It is a quiet place.
As a final note: I just received notification that the water maker shipped. Between this and the sails, we exhaust our 2017 capital expense budget.