My apologies for not posting in sometime. It has all been heads down while we raced to get away.
We finally left Port Townsend this past Friday about 2pm.
The Port Townsend house is rented, the lower shrouds are installed, the rig tuned and new burners installed.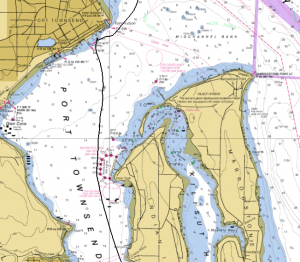 We made a fast motor across the bay to Mystery Bay on Marrowstone Island off Killisut Harbor.
Not everything was packed away, but we were gone.
Needless to say, the Taylor's stove, even with new burners is giving us grief. I'm pretty much resolved to replacing it at the end of the season.
The next morning we headed out at 6.30 across the Strait of Juan De Fuca to Friday Harbor. Jennifer timed the crossing to pick up the fast moving ebb, then slack, then flood to take us through Cattle Pass up to Friday Harbor.
The wind, perfect at 10-15 knots, opposed the current, building irregular lumpy water that found me on all fours on the foredeck with the dry heaves. Three of the four of us, Jennifer, Falco and I were vomiting. Hilary was yelling. ''This is ridiculous, tell them to stop this,'' which, perhaps, was the better approach. We were docked at Friday Harbor at 1:20 pm.
Hilary is much worse this year, completely schizophrenic and becoming more difficult to manage*. We are reassessing the trip.
We have three choices:
Proceed as normal, and have guests
Proceed as normal, but have no guests
Park Caro Babbo somewhere, and fly to Phoenix while we get Hilary into a facility.
It is the pressing matter on our minds right now.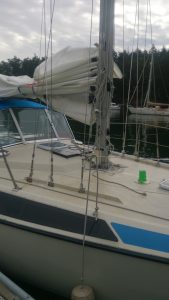 Regarding sailing and Caro Babbo, there is much to catch up on, including working with Brion Toss, author of The Rigger's Apprentice, using the water maker, installing the lower forward shrouds and the startling fast sails we've been making lately.
It is very good to be away.
---
* On a positive note, we continually find quarters (25¢ pieces) in Hilary's underpants. If she can start producing dollar coins or perhaps Canadian Gold Maple Leafs, we'll look this all a bit differently.