8-JUN-2017 Foggy Bay and Ketchikan, AK – Yesterday morning, when we had cellular service for a few minutes, Jennifer called US CBP to say that we would be spending the night in Foggy Bay, on the American side of the border.
We spent the night before in a long, poorly charted inlet called Winter Inlet. The GPS coordinates for the charts, both Canadian and Navionics, were hundreds of feet off. The holding was good and we were fine, but Jennifer was unsettled by the experience.
We had left at 5 am to catch the currents out of the Pearse Canal, which Winter Inlet attaches to. There are no current charts for smaller places like this, and it can be difficult to predict when the water will flow, how fast and in what direction. We anticipated a Nantucket Sleigh Ride shooting us south to Chatham Sound, instead the current was with us at some moments, against us at other.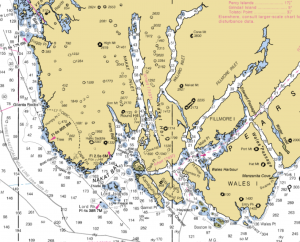 The wind for sailing doesn't usually rise until late morning, by that time we were already entering Foggy Bay.
Foggy Bay has an inner pool, well protected and shallow enough to anchor. In everyone's mind, this pool is Foggy Bay. An opening at the pool's midsection gives a view of the actual bay. The opening dries at low tide and is most likely not navigable by anything other than a skiff the rest of the time.
Jennifer made a loop of the entrance to the opening; we anchored in 40 feet of water.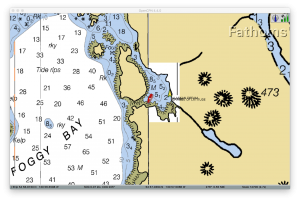 We remembered that last year another sailboat had anchored perhaps 200 feet into the opening. Jennifer feels wimpish, I feel prudently conservative.

An hour or so later a flotilla of five powerboats came in and rafted together across the pool from us. The entire operation was done with remarkable precision that showed practice and expertise. When completed, the center boat was anchored fore and stern tied to a very large dead tree. The two outer boats were anchored 45-degrees forward and stern tied 45-degrees aft. It is not our kind of travelling, but it was done amazingly well.
Midafternoon a yellow sailboat motored in using an outboard in a well in the cockpit.
It took a while to figure out the kind of vessel and the configuration. Our best guess after it passed by was that it was a junk-rigged Viking hull.
Jennifer, Hilary and I had launched the dinghy and taken a row around the pool by the time the Viking boat had arrived. We wondered if anemones don't live this far north as we found none.
After the Viking boat anchored, I rowed over and spoke with the skipper, Heath.
It is a home-built boat, cold molded of three layers, the outer being 3/8s of an inch thick Cedar. The male mold was a lifeboat, stretched to 30 feet by the addition of straight sections. When the boat was pulled off the mold, the gunwales spread dropping the shear line into the Viking shape. The waist also hour-glassed a bit, which Heath faired out with additional wood, yielding 1-1/2" thick sides at places.
We spoke for a bit: it is square-rigged, and only sails broad-reached or broader. As I was starting to leave, I asked Heath to join us for dinner. He paused for a bit and then said he'd be pleased to join us.
Neither of us were sure of the local time, so we agreed that I would return in 90 minutes. Heath only has an inflatable standup paddleboard to get around on. During our conversation, I mentioned the human members of the crew and told Heath that Hilary is psychotic.
I also told him I would probably make either a Shepard's Pie or pasta with Tuna and Pesto. I instead made a red sauce with tuna and canned peas. (The peas were a mistake. This is a traditional recipe, but the canned peas no longer have any firmness.)
On the row to Caro Babbo, Heath told me he had worked at the things: Once as a tool designer for a manufacturing plant. The tools were what were used to manufacture the products. It was very rewarding.
He did a stint working for a manufacturer of log homes: very hard work, very little money, and then came west to PNW where he worked as a carpenter: enjoyable, well-paid work. His parents live on Marrowstone across from Port Townsend.
Aboard Caro Babbo, Jennifer served Vodka and Lime, using the last of the vodka, and cashews that I had fried in olive oil. Hilary had been in a sulk, but came up to meet Heath and stayed in the cockpit wearing her blue life jacket.
We spoke about this part of the world and boat building. Heath had built a long rowboat with which he had rowed from Seattle to Glacier Bay and back. We were more than impressed.
It was an open cockpit boat with a Conestoga-styled nylon-rod sleeping enclosure sewn by his mom who was sail maker.
It was getting chilly, so we ate below. At dinner, as during our time in the cockpit, Hilary would join in the conversation saying, at various places during the conversation, how she had had the exact same experience.
At dinner we served water in teacups – teacups are what everything is drunk from, Vodka and Lime included. And, we ate the pasta.
After dinner, Heath and Jennifer went over charts. Heath's knowledge is deep and detailed. He also spoke to us a bit about his spiritual journey. He had some difficulty verbalizing his growth, but then neither Jennifer nor I are spiritual, so he had no kindred spirits.
Heath and Jennifer discussed going into barely charted areas and places they had both been to. It was an hour-long discussion. I listened, but did not join in. It was one of those conversations between expert enthusiasts. Explaining things to me would have slowed things and lessened the growing fervor.
Around 9pm, Alaska Time, Heath and I climbed back down into the dinghy and rowed over to his boat. Heath had thought he had seen us in Mystery Bay where he keeps his boat, and we had accepted this, until during dinner he asked how we could not have seen him, since we were at the same dock. We anchored out, and didn't dock. It wasn't us.
Heath and I agreed we would probably see each other in Ketchikan, and said our goodbyes. I moved the seat in the dinghy further aft for better balance, moved the oar positions and rowed home to Caro Babbo, to find that Hilary was having a snit and would not go to bed. We left her up, which is fine, and after a while she lay down. I offered to cover her, but was politely rebuffed. After a while, I heard some stirring as Hilary removed her life jacket over her head like a pull over sweater.
By the morning, she had covered herself with one of the two blankets and was using the life jacket as a pillow.
We motored all the way to Ketchikan. The air was calm. The only breeze was the apparent 5 knot breeze as we motored through the still air.
We had been in touch with the Ketchikan Yacht Club, where we try to stay in Ketchikan. There are a very limited number of slips. We told Heath about it and found him waiting for us outside the fuel dock. He hadn't been able to raise anyone at the yacht club – not unusual – and was having engine problems.
He spoke to us for a few moments and then proceeded to Bar Harbor – the city run harbor.
Along the way to Ketchikan, I had spoken with CBP and arranged to be met at the fuel dock.
As I read our information to the officer, she said, ''were you here last year?'' I replied, ''Yes, if I had told you that, could you have just looked up the info?''
She replied, ''No, I remember you.'' We both said it would be good to see each other. Needless to say, it is Hilary that she remembered.
Things can get confusing with Hilary deciding to become active at inconvenient moments.
At the dock, Jennifer calls out the amount of fuel we have taken on. We've adopted the 90% full method, so we don't overflow diesel into the water. I listen for fuel starting to come up the filler neck, which is about 3 ft (.9 meter) long.
This time Jennifer started calling out numbers that were rising very fast. When I hadn't heard the fuel rising well beyond the 12 gallons I expected to take. I stopped filling, ran below to see if we were filling the boat with fuel.
No, no leaks.
I went over to the pump… Jennifer had been calling out the dollars. All is good
The Petro dock here in Ketchikan also sells #1 diesel – Kerosene, which was a brand name, like Aspirin once was.
We filled up the Kerosene five-gallon tank, and waited for Karen Laroux.
It was good to see her.
We went inside the Petro store to fill out the paper work. When she discovered we all had Global Entry cards, she declared we could have done this over the phone.
We pointed out that the book said Ketchikan was a mandatory boarding site. Karen replied that was from 2002 after 9/11 when everything was nuts.
I said, ''then we wouldn't see you.'' We both smiled.
Karen said she needed to see Hilary. Jennifer went below to tell Hilary a friend of ours wanted to say hi. Hilary came up, as gracious as Hilary has always been, and told Karen how good it was to see her.
Karen said, ''Tell me your name.'' Hilary replied, ''Hilary!'' Then, ''Wait, no, it isn't. I just thought of something terrible,'' and then stopped speaking.
I told Karen, ''That is all you'll get.'' Karen in kind voice, said, ''That's enough,'' and commented on how great Hilary is.
At the yacht club everyone remembered us. It was a bit of a homecoming, and burger night was the next evening. We planned to stay two nights. I texted Molly about seeing her, Peter and the kids.
It is a different trip. A good one.