5-JUN-2017, K'tzim-a-deem Grizzly Bear Sanctuary – It has been a very different trip this year.
I find myself thinking that the lack of things breaking has decreased the excitement of the trip: There is little adversity to overcome.
Jennifer often points out that we've been here before. The continual acknowledgement that this is as far north as we have ever been is also missing.
Things are different. Hilary is a much larger burden and we have no guests to look forward to.
In a previous post I wrote about a new Hilary emerging, someone unpleasant and emotionally violent. That person has gone into remission. Hilary 1.x has returned. Not unpleasant but completely psychotic.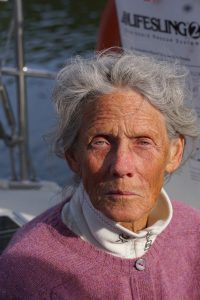 We miss looking forward to having guests join us, and I worry when I notice many of our conversations are about what we will do once the trip is over.
We've been traveling the ''outer passage ,'' if you will. Not blue water, we generally keep some islands between the Pacific and ourselves, but not the established inside passage. This has had only one major difference: There is much less opportunity for internet, phone and even weather reports. There are not very many large vessels passing us, very few AIS targets and we see very few pleasure vessels.
We've seen much more terrestrial wild life than last year.
Today, three days after leaving Prince Rupert, we are in K'tzim-a-deem Grizzly Bear Santuary… about 13 miles down the inlet. In the first hour here we saw 11 Grizzlies. Jennifer has been having a great time. This what it is all about for her.
On the way from Prince Rupert, we passed two wolves on some small islands. Jennifer has a startling ability to spot wildlife. I saw nothing. Eventually, with her help I spotted a tan wolf against a generally grey-beige background of rocks, lichen and drift wood. The wolf was well camouflaged. We circled back. The wolf was clearly bored after gazing at us for a moment and laid down next to a driftwood tree.
After a few moments, we agreed and motored on. I spotted (Italics mine, since I so rarely spot anything other than whales) a second wolf swimming from the island.
Weather reports in this part of the world, the ''Central Coast,'' are for the Pacific. It is difficult to tell when the weather will be as described and will the weather by the shore be similar. On the inside passage, generally, there is just a passing similarity. It is calm after midnight, often calming after 5pm. Mornings have light winds, which build through the day.
Leaving Prince Rupert, the weather called for 20-30 knots, a bit more than we look for. But, our experience said that close to the shore, it should be less and it will be light in the morning, so we left Russell Arm, across the harbor from Prince Rupert around 8 am to catch a favorable current.
As we came into more open water, a larger (approximate 40 ft) sloop who'd been following us through the winding channel, veered to port and Dundas Island, unlfured its Genoa and was on its way: Motor sailing, I think.
We don't motor sail much and I don't follow the current fashion of sailing with a headsail only.
A headsail only yields a ''lee helm,'' meaning that the boat has a tendency to turn away from the wind.
With a self-reefing and furling headsail, this is somewhat easy to control since the sail can be easily rolled up and dispensed with.
We turned into the wind and put up a double-reefed main and a 135% Genoa. The winds did not call for a double-reefed sail, but the weather report and our experience said that it could easily.
This was the time when the main halyard winch decided to finally shear off. While a I find a winch very necessary for a headsail, the main halyard can be tensioned by pulling sideways on the halyard while it is held fast on a cleat, repeating until the luff of the sail is as taut as appropriate, which is what I did.
I also had some trouble getting the reefing eye onto the reefing hook at the gooseneck… I should have done this properly the night before when I set up the reef.
The real fear was when the winch sheared off it might do so with some force, instead it basically fell off.
I had guessed the winch was junk because it started to bend and because there was no name on it. When it finally did shear off I found it had only three mounting screws (as opposed to the typical six) and the wall thickness of the central spindle was laughable.
Once the sails were up, we alternated between a broad reach and wing and wing running. About a half mile away from the right turn into Work Channel, the wind had died and the waves had developed a short period and confused direction; we decided to drop the sails and motor.
With the dinghy stored on the deck, the advantages of a flush deck disappear, so I clip into the jack lines.
Hilary's obsession with tangled lines is generally a way of allowing Hilary to keep herself busy. Last year she was routinely rolling all the sheets, headsail and mainsail, into yarn balls, after untying the stopper knots.
This year Hilary is unable to make yarn balls, but retains the ability to untie knots, and, I found one day, to untie lines from cleats. She only did this once, but she untied the port jack line* as part of her quest to remove the dyneema jack line from the hollow nylon webbing it is encased in. I check that the jack lines are cleated each time before clipping in.
I'm still getting used to moving connected to the jack lines and keeping clipped in at all times, but I am learning the tricks of not getting tangled up in them either.
To douse the sails when we're running down wind, I drop the headsail behind the main. It comes down easily and is easily stowed. This time, the moment I started to drop the headsail the predicted winds arrived. The only real difference is preparation. The sail still drops behind the main, but with strong winds the sail is less content to sit quietly on the deck.
I stretched the headsail back along the deck and Z-folded it into the pulpit. This new headsail will not fit into the forward sail locker. All of our sail handling is predicated on it fitting into the locker, so we're still working out new methodology. (The sail is no larger, but is of heavier weight material and still has very stiff resin.)
Jennifer headed up into the wind and I dropped the main. At this moment, Caro Babbo returned to Jennifer's captaincy, and I became a deck hand, cook and engineer.
Seven miles down Work Channel, we anchored in Zumtella Bay, which is open to the southeast with excellent holding. The waves from the channel were gentled by the time they reached us. Jennifer slept well and I checked that we had not dragged, periodically through the night.
We left at day light against the beginnings of a rising tide, took a short cut through Paradise Passage and were speaking with rangers at the bear preserve by 11 am.
The spelling of where we are changes as a result of the different transliterations, as does the pronunciation.
We had expected to ride a flood tide down Kutzeymateen Inlet, but found the current to be three-tenths of a knot against us. Why? The answer is simple. The inlet accepts all of the water from the entire local watershed. The current runs north on both flood and ebb.
An hour ago, here at the end of the inlet near high tide, sand dropped overboard on a flood tide flows north gently the first few inches of water, and then quickly hooks south as it hits the heavier south-flowing salt water.
Yesterday, when we arrived, the rangers helped us dock, check in and pay our fee. The rangers live in Port Simpson, which we passed on our way to Work Channel. They work fourteen days on and four days off. They also offered to let us tie up at their ranger station dock for the night if we wished.
There are two other sailboats here with us, Sun Chaser, a traditionally rigged sloop with a very large boom and small fore triangle, and a 60-foot ketch. Both are here long term. Sun Chaser is rented as a BnB. The skipper lives aboard and plays host. He ferries guests over to the park ranger office to sign in and pay their $15 park usage fee.
Both boats receive guests via float planes
We've been rushing north. Without last year's break downs, we'll arrive in Juneau at about the same date, so we've decided to rush less.
We have a rhythm of making time. It is taking some getting used to trying to relax. Hilary needs the same amount of attention whether or not we are traveling – about one person day of effort per day, but anchored Jennifer and I have some down time… to watch bears, catch up on writing and bookkeeping, but not to be alone with each other.
Today is the weather we expect in this part of the world: rainy in the 40s Farenheit (lower teens Celsius): unpleasant and cold. I have bread in the oven, bean soup on the stove top, and Alison Weir's book Queen Isabella on the table.
Jennifer is doing accounts and Hilary is speaking non-stop to people who aren't here in English and Spanish, usually with her eyes closed, sometimes open.
Life is never the journey I expect, and this second journey to Alaska is running true to form.
______________________________
* A jack line is a line (rope) that runs the length of the boat that crew clip a harness to. By being clipped to a jack line, the crew member is kept from falling over board, or at least kept with the boat. Untying one end of the jack line defeats its purpose.