5-AUG-2017, Frosty Bay, AK – We ripped the aft starboard cleat out of the boat today, then glued it back it in at a little two-boat dock in Frosty Bay.
We motored from Berg Bay to Anan (pronounced Ann-Ann) this morning. We left at 5 am and arrived at 7 am. We'd stayed in Berg Bay at least once before.
There is a Forest Service cabin that is fully booked each summer by tour companies so that it is basically a private cabin, but anchorage is good and it is well protected. Like everywhere we anchor, we generally do so alone.
This time an accompanied group of nine boats anchored with us. As I've written before, we use a nylon rode, which in a place like Berg Bay, means we have a 400ft (130 m) swing circle. Even in calm weather we wander all over the place with the breeze and current.
We told the first boat in, Sea Pie, a forty-something motor vessel about our rode, who anchored on a chain rode some distance away… not far enough. The rest of boats arrived, some anchoring closer, most quite far away.
During the early evening, Sea Pie pulled in some of their rode so that we wouldn't bump, and we pulled in some of ours. The skipper apologized, saying it was his responsibility, which is true. I told him not to worry about it. I woke every hour so through the night to check we were okay. Around 3am, I realized that if I turned our wheel a few degrees the flow over the rudder kept us parallel to him and away.
However, earlier in the evening we listened in on their group call and learned they would be going to Anan the same as us. The paid leader of the group, on board Ruby Slippers, told everyone where to anchor: exactly where we planned to, so it could be a crowded place.
We left at 5 am, arriving at Anan at 7 so we could anchor, eat breakfast and be ready when the rangers opened shop. Jennifer would go alone, and then I would go, so someone would be with Hilary.
We decided to anchor near the ranger's floating cabin and were treated to the rare siting of one of the rangers brushing his teeth while wandering around the float.
Since there was only the barest of breezes, we put very little rode on the stern anchor so it just keep us from swinging. Jennifer went ashore, became buddies with Leah, who worked the entrance, and after a few hours returned.
I rowed in, tied the dinghy to a rock and started the half-mile walk to the bear-viewing platform, along the way meeting groups returning, sidestepping lots of bear scat and being asked if I was John?
When I said yes, the tour employees I met told me that my anchor had popped and I needed to get back the boat. My first guess was that the rode on the stern anchor had worn through since I attached the line directly to the anchor with no thimble.
I trotted quickly back, passing the groups I had met on the way, all the while, as instructed, singing, in my case show tunes, to warn bears of my approach.
When I met Leah, she said all was okay, I needn't worry. I called Jennifer on the VHF and learned that the stern anchor had literally popped off the bottom and she had swung into the rangers' cabin's float, but she was tied up there and all was okay. The wind had picked up to ten knots or so. All was well, and I should go enjoy the bears.
There were several German tourists, a park service ranger, Kyle, in green livery but very few bears. On my way back, I overtook Bill, from the 36-foot Island Packet, Charley, which was on of the Sail Alaska group of nine boats. He was anchored a distance out. One of the others was anchored close enough to us that the stern anchor was necessary to keep from swinging into him – quite fair, as there is limited anchorage.
The vast majority of tourists to Anan arrived on large, 40 passenger high-speed power boats from the cruise ships at Ketchikan. The tickets are all bought in the first few days after they come on sale in February. People like us get the 4 ''lottery'' tickets per day available. Only two were available the day we were there.
Bill had trouble walking and breathing. He sounded like he had congestive heart failure.
We spoke and walked together. When we arrived where I tied up my dinghy, the wind was blowing fifteen knots or better and mine was the only dinghy there.
Bill told me his spouse would come get him in their small inflatable using the tiny egg-beater electric trolling motor. We both knew that that motor would be useless in these wind and waves, and the inflatable would not be rowable either.
I said that I would row him out. Please remember that no good deed goes unpunished.
It was more than a half mile to Bill's boat, because of the row along the shore before rowing out a hundred yards or so to his boat. He and Leah decided that it would be best if he walked along the path to the on-shore park service cabin, where I would pick him up and row him out. This was quite close to Caro Babbo and the floating cabin.
I passed by Caro Babbo, spoke to Jennifer and rowed ashore.
The winds were a steady fifteen knots onshore with a very short two to three-foot chop.
Bill arrived after a few moments. We launched from the beach and started the row out. The waves were much higher than the freeboard of our dinghy, but to the credit of the designer, it took them well and we were completely dry. I could not see the waves we were rowing into, but Bill locked his arms into the lines attached to the dinghy and looked over my shoulder. Along the way he told be he had had both knees replaced and one hip. When I mentioned an obscure knee defect that I had from growing rapidly as a pubescent kid, he easily mentioned its name – I came away thinking he was an MD.
We approached Charley from the stern, tied the dinghy bow and stern crosswise, and Jim crawled aboard. They cast me off and I rode the waves and onshore breeze back to Jennifer.
We tied the dinghy on the hip, but as we prepared to cast off, Caro Babbo's aft starboard cleat tore out of the hull, alarming Jennifer and not pleasing me.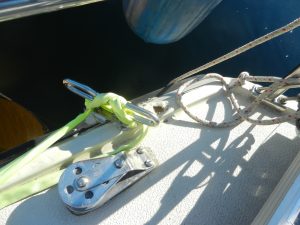 The big question was how do we get off this leeward dock with 15 knots of breeze and a heavy short chop pinning us there?
The answer was the bow anchor that was still deployed. I reeled in the anchor, which easily pulled us off the dock and we motored away. It doesn't get much easier.
At Frost Bay, I dug out a tube of Six10 and cut a backing plate (the Maxi doesn't have them), and put the cleat back.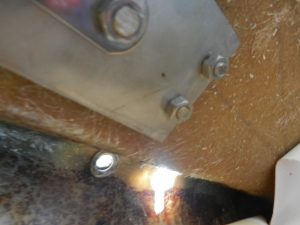 I wet all of the torn glass fiber on both sides (boat and cleat) with the Six10, which comes thickened, using a disposable ''chip'' brush and tightened the cleat in using the backing plate as a clamp. Today is August 10th, we docked five times since then (fuel docks, etc) using the cleat each time, and it was worked well.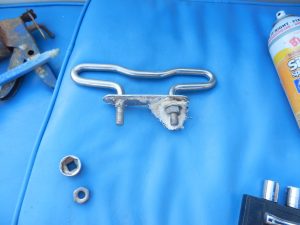 In January, when we
return to Seattle for a few months, I'll make a proper repair grinding out whatever needs to be and making the repair with fiberglass cloth.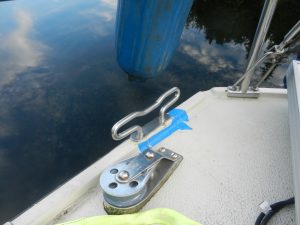 The actual repair took less than an hour and was ready for use the next morning.