Twenty-one days, three weeks, from yesterday, Hilary, Jennifer and I are scheduled to leave our safe berth on Seattle's Lake Union and start our extended journey to Juneau and beyond.
I think about this with a hollow giddiness. We've been closer than 21 days before and had the soap bubble pop when some family responsibility took precedence. This time Jennifer and I have resolved that nothing will get in the way of this trip. We've devised ways to handle the unforeseen, which may involve one of us leaving the other for a few days to handle the emergency, whether to personally resolve the calamity or to put the infrastructure in place (Lawyers, guns, and money or MDs and extended stays).
The week has been a week of completed task list items – all the major tasks are complete, only one or two critical tasks yet to be done, though the formal to-do list shows 56 items overdue.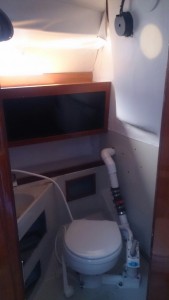 The head looks good: some nuts and bolts still need tightening – literally – all of the wall covering is up, bright work installed, wiring rerouted. I expected the assembly to take half a day, instead applying the vinyl wall covering was more than eight hours of effort alone. I have some places where I did not successfully lay the vinyl flat. To rectify this I may recover the hull section before we leave in May 2017. I did not use foam there because I had run out, and thought it would not really matter… it does.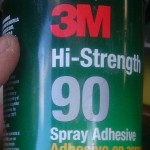 We abandoned the 3M 77 spray adhesive we had been using, which had terrible adhesion problems: Covering is unpeeling everywhere else in the boat. We upgraded to 3M 90, which is très très cher but seems to have superb holding – time will tell. However, to do the head, solely, required 2-1/2 cans at close to $30 per can.
Jennifer has been working on cushions, we have two cushions in the V-berth to be completed. Our useful-material yield has been much lower than expected, as we learn how to efficiently cut cloth and not make mistakes, so we've ordered more cloth and foam backing. The cloth is special order and will arrive next week some time.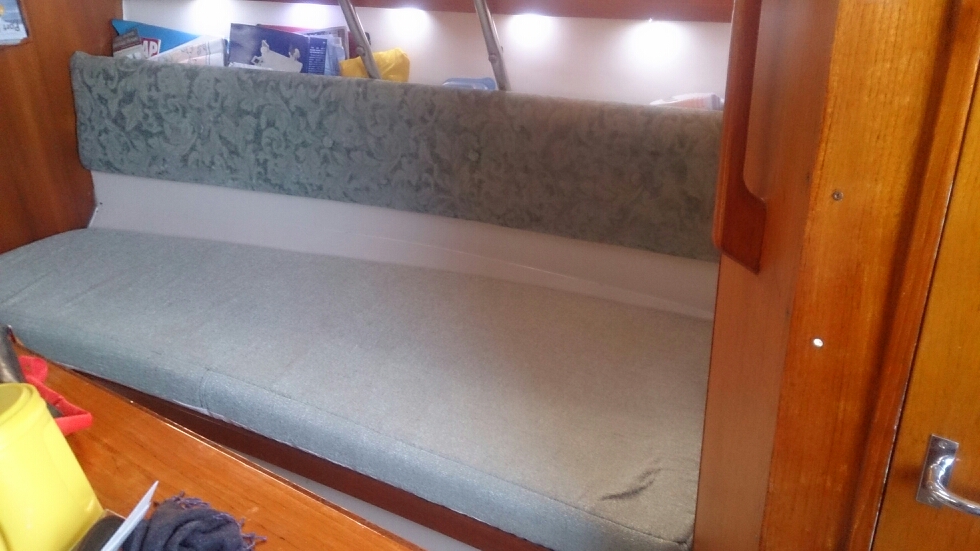 The cushions are made of four-inch foam. The covering is an eighth-inch layer of cloth-backed foam laminated to the cloth. This gives the covering structure and rigidity. The covering becomes a box into which the cushion is placed. The bottom of the covering is perforated vinyl so the cushions can breathe.
We've been sleeping on forty-year old, three-inch foam, which cushions the hard surface underneath to the point of no bruises, but little more.
We'll keep the new cushions covered with easily removable fabric coverings (the ''slip covers'' of years gone by) that we can easily launder.
The process of extracting myself from my profession has eaten about a third of the week with no remuneration in site, but it is necessary. Commitments related to Hilary have eaten close to another third, leaving many less hours for actual shoulder-to-the-grindstone work. But, the work that has been completed is up to snuff.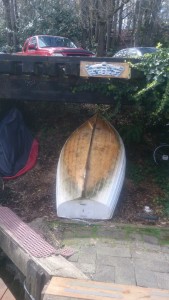 Yesterday, with the help of Derek and Kevin, I pulled the dinghy out of the water so I can repair the centerboard-trunk leak (very common on centerboard boats of every size), paint the bottom with antifouling paint and paint the topsides*.
Today, Saturday, I scrubbed the bottom and bought ''hard,'' non-ablative bottom paint, to protect the bottom during the five months it will sit in salt water trailing behind Caro Babbo, and thickened Six10 epoxy to repair spider web fractures and the centerboard trunk.
Thursday night, using Go-To-Meeting, I took control of my Dad's¹ Mac and printed a NOAA chart on his 24-inch printer. We'll have charts printed at that size. Three years ago he had a 36-inch printer making the charts that much larger.
We hope to print about 80 charts before we leave. Once the process is started, the printer will print on its own unattended.
It looks like I might finally have stopped the new water bladder from leaking. It all comes down to how tight does one twist a plastic collar wihout splitting it?

Earlier in the week I spoke with Boat US about changing our insurance coverage to include a trip to Alaska. They will cover us above Vancouver Island from May 1 until September 3oth, we must have three crew and an EPIRB†, in addition to all of the other devices we have. Unexpectedly, they didn't ask whether we had AIS. They asked about Radar, VHS radio, SSB (we don't have), strobes on our life jackets (we don't have – we're only day sailing), MOB‡ pole or ring, life raft (no, we'll never be out of sight of land). And then they promised to call the next day… We haven't received a call, yet. I'll call on Monday.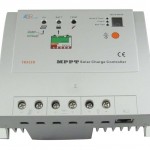 Tomorrow, I'll install the solar panel controller, attaching it to the current 65W panel and move the current controller over to the 4W that charges the cranking battery. In theory, the 4W doesn't need a controller, but since I have one, I might as well use it.
Jennifer is researching a way to mount the new 100W and the current 65W panels so that they are out of the way.
The critical path items are to replace the through hull for the holding tank, and change the engine lubricants.
Next week, we start installation of all the new electronics and the Taylors stove.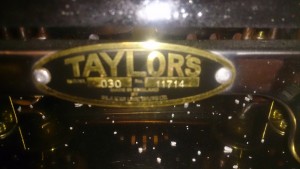 (BTW, though the name of stove manufacturer seems always to be written without the apostrophe, Jennifer has noted that the label on the stove does in fact have an apostrophe.)
For this American, British use of punctuation marks remains a mystery.
The Maxi to-do list has 56 items listed as overdue and 252 items in total. Most are nice things to get done, very few are critical.
Griot received the cleats and is starting to replace the cutlass bearing on his 95, which comes out of the water each winter. I am reading more and more about the maritime provinces and can't wait to get there, though realistically, it will probably be 2019 before we actually do.
Task Highlights:
Going up the mast to replace the steaming light
Sewing our own harnesses
Installing Jack Lines
Replacing cooling hoses on the engine
Installing a second electric lift pump (maybe)
Installing the VHF radio, antenna splitter, Vesper AIS, and connecting a NMEA (pronounced neema for some reason) 0183 connection from the Garmin handheld to the VHF radio so it can use the GPS unit's GPS satellite info. The same info is available from the Vesper AIS yielding AIS reception redundancy.
My Amex is over $3000 this month – no comment necessary.
On the rat front: One morning the trap was tripped but no rat or disturbance in evidence. This was the trap the snapped on my ring finger. It took three tries to set it this time. I suspect that a larger than normal wake set it off.
I've also installed expanded aluminum gutter strainers in place of the aluminum window screen. I've had excellent results with these at my residence in Atlanta.
Keep my head down, don't look left or right and keep moving forward.
¹ Our Maxi, Caro Babbo, is named after my dad. I'll leave it to you look up the translation.
*Contrary to what we've all learned in American movies, topsides are the sides of the boat above the waterline, not the deck, which is merely called the deck.
†An EPIRB, or Emergency Position Indicating Radio Beacon, is a distress beacon used by mariners worldwide to alert Search and Rescue (SAR) forces that they are in distress.
‡I find interesting that Boat US uses the term MOB, Man Overboard, rather than the more accurate Crew Overboard. But then, Boat US wasn't interested in whether I had AIS.