Yikes, it's been a while since we've posted.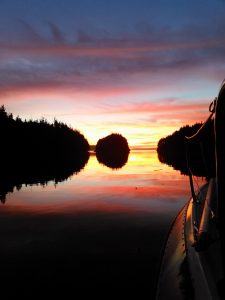 We're a bit south of Port McNeil in Pearse Narrows, where we've been having anchor holding issues.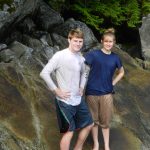 We had two wonderful guests with us for nine days, Sarah and David MacKillop, and yesterday our friend Julie Corenzwit joined us in Port Hardy.
There has been little internet access, and on the three days we've had it since our last post, time was spent mostly preparing for our guests and catching up with the business of daily life: paying bills.
We met Sarah last summer in Phoenix and stayed in touch. When we asked Sarah to join us on our trip this summer, she wonderfully agreed and brought her brother David with her.
Jennifer is a wonderful host. I get attention as the person who invited Sarah and David, but Jennifer is the real host. Jennifer makes sure that we go to interesting places, and makes sure that we go ashore, go to towns, go to museums and somehow makes sure all the wild life show up on schedule.
Somehow, Jennifer also makes sure the wind shows up, but not too strong.
I'll post a number blog articles in the next bunch of hours.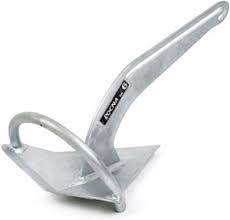 The major news from our point of view is we have fallen out of love with our Rocna anchor. We had an occasional problem with setting: the chain can not land on the Rocna, because the Rocna lands with the shaft up and the anchor is stable vertically. When chain lands on the shaft it prevents the anchor from setting when we ''back down'' on it.*
We can live with that.
The Rocna anchor generally sets in weeds, but it will not reset if there are weeds, and this is a major, major problem. The  hoop on the anchor collects all the weeds, rather than letting them flow over the anchor. So, rather than resetting, a ball of weeds with an anchor in the middle is sliding across the bottom.
Additionally, in this video, the Rocna will not reset in the case of a violent wind shift… we've not experienced a problem here.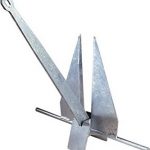 In the case of weeds, we use our Danforth with great results. If it wasn't for the Danforth's issue with being carried on a bow, we'd probably make it our primary anchor.
I have written an article, rather than a post, about anchoring and why we use a nylon rode, instead of chain. I'll try to get the article up soon.
Among posts that are coming are:
Our visit with Sarah and David – Sarah's dreams of whales, and David is renamed ''Dance's with Salmon.''
White Horse's own Antoine and Ettiene, and the source of David's soon to go viral phrase, Yukon Style.
Meeting Daniel White the, unfortunately, self proclaimed town drunk of Bella Bella.
Our visit with Chuck and Laura of Lealea – We know Chuck and Laura from their Youtube channel.
Our kerosene/paraffin stove – was this a (very expensive) mistake?
And, of course, Hilary, all the amazing places we've been and things we've seen.
The posts will be dated and appear in the time line for the dates that they cover, so the post on Chuck and Laura will appear dated for when we were in Petersburg. A dateline will indicate when the piece was posted.
Thanks for following us. If you have not registered, could you. It helps us understand who is reading our blog.
---
*Backing down on an anchor refers to placing tension on the anchor rode by backing the boat away the from dropped anchor. This process ''sets'' the anchor in the bottom. However, all may be undone when the tide changes, or the wind changes direction, then the anchor may pull out of the bottom and must reset itself without any backing down.